A cartoon controversy has shed fresh light on longstanding discrimination against followers of so-called nontraditional religions in Kazakhstan, revealing that a local journalist and members of an "antisect" body were monitoring a Protestant church they considered potentially dangerous.
The pastor of the church in Qaraghandy asked the two antisect employees to leave the service, according to a subsequent article published in the local newspaper "Vzglyad na sobytiya."
"I do not like the atmosphere here today. I cannot worship when there is oppression and control," the newspaper quoted Pastor Igor Paks as saying. "You disturb the liturgy; get out and do not disturb us."
Alongside the article, which indicated that the church was involved in brainwashing people to become Christians, the paper published a cartoon which local religious leaders declared libelous, saying it incited "religious hatred and intolerance." The cartoon depicts a cook putting a book with a cross on it into a man's brain, along with a potion of "some words of the Lord Almighty, a bit of spicy tricks with delirium about personal growth; as for logical thinking… we do not give a damn about that."
The Kazakh government, which prides itself on respecting all religions, funds the antisect centers. They purport to provide counseling to those who have become involved in "destructive sects" and disseminate propaganda critical of such groups via the media. Many of the minority religious groups that come under pressure are widely accepted globally, including evangelical Christians, Baptists, Jehovah Witnesses, and branches of Islam that don't follow the brand officially accepted by the Kazakh state.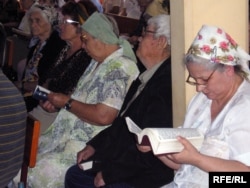 The Kazakh government paints a rosy picture of the country's commitment to religious freedom.
Felix Corley, the editor of Forum 18, a news service that covers religious freedom issues in the former Soviet republics, says that Kazakh media, local government, and antisect centers often work together to push propaganda and target religious minorities, even conducting raids on unregistered religious groups, with journalists tagging along to write an article critical of the community.
"We have two faiths. We've got the majority Muslim faith, we've got the minority Russian Orthodox faith, and anyone outside that is somehow a danger, a threat, a traitor to their ethnic origins, or ancestral faiths, or whatever. And it's so easy for official rhetoric to start to slip into this mindset," Corley said.
Undercover Journalist
Joseph Grieboski, founder and chairman of the board of the Institute on Religion and Public Policy, says there has been a significant decrease in legal, social, and political protections for members of religious minorities since 2003.
"Vzglyad na sobytiya," the newspaper that published the contentious article and cartoon, had earlier published a letter written by a man about his ex-wife, claiming that after becoming involved in the Protestant congregation she had starting beating their two children and feeding them only if they prayed before meals.
The deputy chief editor said that community members began calling the newspaper, questioning whether the church was dangerous, so they decided to send an undercover journalist to a service.
Pastors from churches in the Qaraghandy region issued a statement on January 26 condemning the cartoon as well as the article. It accused the newspaper of bending to the will of the antisect center by publishing the "libelous" article and cartoon and "inciting religious hatred and intolerance towards religious minorities in the Qaraghandy region."
It also stated that the ex-husband who wrote the original letter to the newspaper had physically abused his wife and traumatized his two daughters. According to minutes from an official meeting between the girls' school principal, the mother, and a police officer, she divorced him because he beat her in front of their children, giving her a concussion.
"Apparently in revenge for the fact that she no longer wants to live with him, her ex-husband decided to blacken her choice to believe in God and attend church," the statement said.
No Comment
The antisect Viktoria Center, which sent the two employees and which Corley says receives a large amount of government funding, declined immediate comment, as did Yuliya Denisenko, the president of a Kazakh association of centers working with victims of destructive cults.
Viktoria Tyuleneva, who works with the Kazakh NGO International Bureau of Human Rights, says that the antisect organizations were initiated and are funded by the government, and that there are now 18 spread across the country. She says that while some people do go to them for treatment voluntarily, more often they are pressured to.
"I also know about situations where people are 'asked' by, for instance, the Committee for National Security, to refer to these kinds of organizations, to justify persecutions of such religious sects via administrative legislation of the country. Sometimes even criminal legislation, which happens more often," she said.
Forum 18's Corley says that although the connections between local government, media, and the antisect centers are quite transparent, and the hostility to religious minorities very apparent, the government still paints a rosy picture of the country's commitment to religious freedom.
Kazakh President Nursultan Nazarbaev created the Congress of World and Traditional Religions in 2003, which has met three times, and a related Secretariat of the Congress, which meets annually.
Grieboski says Nazarbaev uses these institutions to his advantage.
"He's been using that as a cover for the human rights and religious freedom problems that exist in Kazakhstan. He's done a very good job of convincing the older world religions that Kazakhstan is a great place," Grieboski said.
Convenient Definitions
Corley says religious fervor is rising in much of the former Soviet Union, but from a very low base as a result of Soviet-era atheism. Kazakhstan especially, as one of the most heavily Russian-influenced states, is not a strongly religious country. But as religious sentiment in the country rises, he says, the government is trying to maintain control.
Grieboski adds that outside religions have flooded the formed Soviet countries since the collapse of the Soviet Union and that many countries -- including Kazakhstan -- have decided to put their foot down.
"It's very easy to define any group as a sect if you want to keep it out," he said.
Followers of religious minorities are often of a different ethnic origin, including German or Russian Protestants or Chechen Muslims, and can be targeted along ethnic as well as religious lines, according to Corley. And when ethnic Kazakhs or Uzbeks become involved in minority religions they can be seen as "betraying their ancestral faith."
The U.S. State Department said in a 2010 report on freedom of religion in Kazakhstan that approximately 65 percent of the population professes to be Muslim. Ethnic Kazakhs make up about 60 percent of the population, while ethnic Uzbeks, Uyghurs, and Tatars collectively account for less than 10 percent of the population. The vast majority of Muslims in Kazakhstan are Sunnis of the Hanafi school, while 1 percent of the population is comprised of Muslims from other schools, such as Shafi'i Sunni, Shi'a, Sufi, and Ahmadi.
Approximately one-third of the population is Russian Orthodox, mostly ethnic Russians but also ethnic Ukrainians and Belarusians. There are 1,267 registered Protestant organizations and two Baptist groups with 11,000 members. There are also communities of Presbyterians, Lutherans, and Pentecostals, Jehovah's Witnesses Seventh-day Adventists, Methodists, Mennonites, Mormons, Hare Krishnas, Scientologists, Baha'is, Christian Scientists, and Jews.
'Increasing Oppression'
A 2009 report written by the UN independent expert on minority issues, Gay McDougall, stated that representatives of religious minorities defined by the Kazakh government as "nontraditional" or "sects" she met with described "an environment of increasing oppression" and "increasingly hostile and negative coverage in the media." Some also reported harassment and intimidation by law enforcement and national-security officers.
Some said their places of worship had been raided and their computers, documents, and religious materials confiscated. Some also described national security members infiltrating religious meetings and videotaping the proceedings, and even photographing participants and arresting pastors during services.
The U.S. State Department released a report in November from the Bureau of Democracy, Human Rights, and Labor stating that they had observed several cases of pastors in Kazakhstan being fined for unregistered religious activities and then being jailed for failure to pay the fines. It said the fine for a operating an unregistered religious organization is $961 dollars, while participating is subject to a fine of $481.
Tyuleneva said that the government is afraid of people becoming involved in nontraditional religions because they don't want them to think for themselves.
"I think to believe in something of your own gives you a way to become free, to get out of the control [of government]," she said. "Unfortunately, I don't see that our country needs free people -- I mean free-thinking people. I think today the authorities don't want this. For them it's more convenient to have -- no offense to people living in Kazakhstan -- zombies. Those who accept the ideas propagated by the government."

RFE/RL Kazakh Service correspondent Saida Kalkulova and editor Merkhat Sharipzhanov contributed to this report