ZHANAOZEN, Kazakhstan -- Fifty-eight-year-old Myrzabai Lesov has spent the last 30 years of his life as a truck driver working for the OzenMunaiGaz oil company in this town in western Kazakhstan.
It seemed like a good life at first. When he was offered the job in 1981, he and his wife jumped at the opportunity to leave their home village of Shetpe and move to Zhanaozen. At first, they rented a small apartment. Then, after the birth of their three children, they were given a two-room apartment by the company.
Those days, however, are a distant memory.
Since May, Lesov has been on strike, demanding payment of unfulfilled wage hikes and better labor conditions. More than 1,000 OzenMunaiGaz workers are participating in the strike, which has already seen several of its organizers detained and two of its sympathizers killed under mysterious circumstances.
The Sole Provider
A parallel strike is ongoing in the neighboring city of Aqtau. But so far, despite measurable drops in the country's precious oil output and a rising chorus of disapproval from the international community, the Kazakh government of President Nursultan Nazarbaev has refused to capitulate, saying the workers' pay had been far above the regional average.
On a local level, the strike has taken a toll on ordinary workers like Lesov, who is the sole provider for his three grown children and two grandchildren. He had already endured a serious blow when his wife died last year of a brain hemorrhage. In addition to grief, the family suffered the loss of a precious second salary. But if things were bad then, Lesov says things have only gotten worse since the strike.
"Right now, my daughter Aktoty is raising her daughter alone," he says. "My granddaughter is 8 years old. She's studying in second grade. It was difficult this year to get her ready for school. The government helped with clothes and food. Many oil workers didn't send their kids to school, but we decided not to deprive her of an education.
"My second daughter, Kuralai, literally just gave birth a few days ago. She's in the hospital right now. Soon, they'll let her out. And my son didn't study anywhere, and he hasn't been able to find work."
A Ramshackle House, An Empty Refrigerator
Myrzabai lives in an old two-story house built in 1966. The foundation of the dilapidated structure is collapsing, and the entryway of the house is beyond repair. The main doors to the building have long since disappeared, the windows in the stairwell are broken, and everywhere there is the strong smell of excrement. Myrzabai says most of the oil workers live in similarly decrepit buildings.
"The house is so run down that it's dangerous, and we don't have the means to make repairs in the entryway or to improve the facade," he says. "We can't even make repairs in our own apartment, let alone the entryway. My pay was close to 77,000 tenges ($500) and food alone is very expensive. We were barely making ends meet before, and now we really don't have anything to eat at all."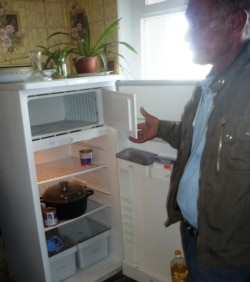 "We really don't have anything to eat at all," Lesov says, pointing to his nearly empty refrigerator.
Myrzabai opens his refrigerator to prove his point. It is nearly empty, as are the kitchen cabinets. The entire apartment is chaotic, with piles of clothes and other belongings strewn about the rooms.
"The six of us live like this, in these two little rooms," says Lesov apologetically. "We've acquired some things through the years, and now we have no place to store them. So we just put them in piles."
'I Don't Regret That I Stayed On The Square'
Lesov is far from the only oil worker living in desperate circumstances. Many of the 10,000 workers who originally walked out in May have since returned to their jobs rather than face abject poverty.
Lesov says that when many of his colleagues returned to work, he found himself wavering. Should he return to his comrades on the square or go back to work and face even harsher conditions? He has heard that many of those who returned were forced to sign agreements saying they would no longer participate in strikes or demand higher wages, and that the word of their managers was bond. In Lesov's eyes, they have effectively become slaves.
"I thought about it and wavered for a long time," he says. "When the guys went back to work, it seemed like a betrayal. But on the other hand, I had to think about my children and grandchildren. They're starving. They don't have enough clothes. They don't even have shoes. My kids tried to persuade me to go back to work, but I couldn't leave the guys at the square. How could I ever look them in the eyes again?"
A handful of Kazakh NGOs have responded to the crisis, creating a support fund for families of the striking oil workers. A first tranche of close to $2,700 was distributed among the neediest families, including Lesov's. In all, 40 families received $70 apiece -- a tiny amount, but Lesov says he's grateful for any support he can get.
"Thanks to everyone who's helping us. I don't regret that I stayed on the square with my comrades. We're fighting for justice, after all. Maybe our actions will serve as an example for other people whose rights are being trampled on. We can't live as slaves. We have to fight for our rights. It's the 21st century. As hard as this ordeal may be, we have to endure."
The entryway of the house is beyond repair. There is the strong smell of excrement everywhere.