If Rahimjan Makhatov had a radical bent, he kept it well hidden.
Before Kazakh officials announced that the 25-year-old had carried out the country's first suicide attack last week, he was an unremarkable figure. Now, in light of that bombing and another apparent
attack today
in the capital, he and those who influenced him are under intense scrutiny.
Makhatov's more recent day jobs included working at a bank and at an oil company. In his hometown of Aqtobe, an industrial city of fewer than 300,000 in northwestern Kazakhstan, he was known for his good manners and his love for music.
He was brought up in a well-respected family headed by his police-colonel father and physician mother, and graduated from university, where he studied economics.
"Makhatov was the winner of the 'Ainalaiyn' and 'Zhas Kanat' music contests, and he always got high marks at school," says Biyazy Sarina, Makhatov's music teacher at the local Kazangap art school.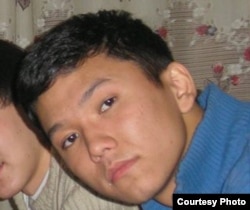 Rakhimzhan Makhatov
Makhatov's neighbors say they were shocked to hear that Makhatov had become Kazakhstan's first-ever suicide bomber.
But others, looking at the political and economic situation in his home region, say allegations of religious extremism aren't outside the realm of possibility.
Religiously Conservative Region
Despite western Kazakhstan's immense oil wealth, little trickles down to the average citizen. The region is increasingly described as one of the most religiously conservative parts of the country. And Makhatov isn't the first local to have been linked to religious extremist groups.
The Prosecutor-General's Office, in the only official comments on the May 17 suicide bombing in Aqtobe, said Makhatov carried out the attack on a regional branch of the National Security Committee to "avoid responsibility for a number of crimes he committed as a member of an organized criminal group." No further details have been provided.
Officially, the authorities do not consider it a terrorist attack. But they do say Makhatov and his wife were members of an underground religious extremist group. That fact has given rise to concerns that the type of extremist violence not uncommon in other Central Asian states might be finding its way to Kazakhstan.
Zhasaral Kuanyshalin, an opposition politician and native of western Kazakhstan, says the bombing shines a spotlight on social injustices in the region, which says have prompted recent protests.
"Let's hope Makhatov's incident was not in fact a terrorist act," Kuanyshalin says. "But if the authorities really want to prevent any extreme and desperate acts of protests in the future, they should reconsider their policies."
Social Injustice
The majority of Kazakhstan's vast oil fields are located in the west. Some $150 billion of foreign investment into Kazakhstan's energy sector has created some pockets of prosperity, but government critics like Kuanyshalin argue that ordinary people continue to struggle against poverty.
"Ordinary people could have much better living standards, but they were left with nothing," Kuanyshalin says. "Our nation's wealth only serves the interests of President Nursultan Nazarbaev and his clan, his family, his daughters."
"Natural resources belong to people. These people on the top -- who were all communists in the past -- they haven't inherited this wealth, they just grabbed the nation's wealth," he adds. "If according to the constitution power belongs to people, then why people are suffering? Why do they have to claim their rights and interests by such desperate measures, by strikes and demonstrations, which in turn are momentarily suppressed by authorities."
While the authorities are unwilling to draw any connection between regional discontent and Makhatov's suicide attack, local gossip and media outlets are rife with speculation and rumor.
The local "Diapason" newspaper has described the incident as a terrorist attack and -- quoting unnamed sources -- reported that an underground group with which Makhatov has been connected in the media was allegedly plotting more attacks in the future.
WATCH: A photo gallery from the scenes of the two recent attacks and the hometown of suspected suicide bomber Makhatov:
Makhatov's relatives in Aqtobe tell RFE/RL's Kazakh Service that he was briefly detained alongside seven other members of the underground group last month. Law enforcement agencies conducted a search of Makhatov's family home, they say, and he was detained. Days later, Makhatov and two other men were released on condition that they not leave town, his relatives say.
Makhatov lived with his wife, Miramgul, and their three daughters in his parents' two-story home on Aqtobe's outskirts.
No Place Like Home
Makhatov's wife, Miramgul, was arrested following the suicide bombing, and some relatives blame her for changing the path of his life. They say his life changed some four years ago, when Makhatov met Miramgul, a native of the village of Shubarkuduk in Aqtobe province, who worked as a shopkeeper.
According to Makhatov's relatives, Miramgul accepted his marriage proposal on condition that her future husband become a pious Muslim.
This led him to give up his music, they say, and some speculate he eventually joined the same underground religious group his wife has allegedly been a member of for some time.
Others, including one neighbor who declined to give her name, says that Makhatov began frequenting prayer meetings a few years ago. However, she notes, "I have never seen any religious gathering taking place in their house."
What is clear is that western Kazakhstan's reputation as one of the most religiously conservative areas of the country is growing.
The growing number of young female students at local universities wearing Islamic clothing appear to point to that conclusion. And the number of young men attending mosque prayers is also on the rise.
Dozens of men have been arrested in the region in recent years for alleged links to extremist groups, such as Salafi and Wahhabi movements. In September 2009, six members of a banned Islamic group from Aqtobe province were found guilty of plotting terrorist attacks and sentenced to prison terms of between 10 and 17 years.
Russian authorities and media have claimed that a number of militants from Kazakhstan's western regions are fighting alongside Islamic militants in the North Caucasus.
Fears that the region could be a breeding ground for extremism was great enough that a group of religious officials and imams was sent to the western Atyrau province in recent months to meet with local students and discuss religion and national security issues. They called on the young not to mix up true religious values with extremist ideas.
Now, just a week later,
another deadly explosion
-- this time apparently targeting a National Security Committee building in the capital, Astana -- lends greater urgency to the question of any terrorist threat, as well as exacerbates fears that terrorists might have official Kazakh targets in their sights.