ALMATY, Kazakhstan -- Journalists at the Almaty-based online television company Stan-TV say they are under pressure from the Kazakh National Security Committee (KNB), RFE/RL's Kazakh Service reports.
Stan-TV correspondent Sherniyaz Shaghatai told journalists in Almaty on September 20 that several persons who introduced themselves as KNB officers visited him last week in Hospital No. 7 -- where he was undergoing treatment -- and tried to persuade him to collaborate with them.
Shaghatai said they asked him about Stan-TV 's operations.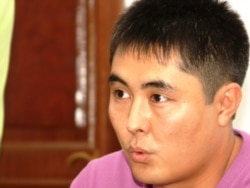 Producer Danesh Baibolatov: Constantly followed
"They warned me that in the event that I refuse to collaborate with them, anything could happen to me or my relatives. They said that drugs may be found in my pockets or a car could hit my mother on her way home from work," Shaghatai said.
He added that he and members of his family have noticed that a car follows them at all times and that they have recently started receiving strange phone calls from unknown callers.
Stan-TV producer Danesh Baibolatov told journalists that one of the company's correspondents in a Kazakh region was recently urged by local KNB officials to quit his work.
Baibolatov added that Stan-TV's video crew was constantly followed by unknown people during their visit last month to the western province of Manghystau, where they were covering an oil workers' strike.
Shaghatai and Baibolatov say the pressure is connected with Stan-TV's professional activities. They said they will ask local police for help.
On September 15, an Almaty court ruled that Stan-TV must stop using the antennas on the roof of its Almaty offices because they are endangering the health of nearby residents.
The court's ruling was based on a statement by the Almaty city Health Office that the antennas and equipment of the Internet providers ASTEL and Digital TV pose a health threat.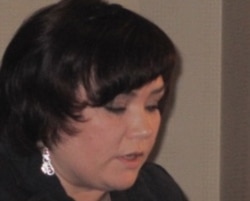 Elina Zhdanova: Intrusive inspections
On August 23, Stan-TV editors Elina Zhdanova and Baurzhan Musirov told journalists that the company had been subjected to intrusive inspections because of the company's independent news coverage.
They said their offices were inspected without prior notice in mid-August by Almaty's architecture and construction control, fire-safety control, and hygiene control agencies.
The inspectors told them the inspections were undertaken in response to written complaints from residents of nearby apartment blocks about the large antennas mounted on the roof of Stan-TV's office. The inspectors said the residents complained that the antennas are affecting their health.
Zhdanova and Musirov said they subsequently met with some of those residents, who told them police had pressured them to write letters of complaint.
Stan-TV is funded by fugitive Kazakh businessman Mukhtar Ablyazov, who lives in self-imposed exile in Britain.
The station, which covers Central Asia in video reports posted on its website, often publishes reports critical of the Kazakh government and individual government members.
Read more in Kazakh here