KARA-SUU, Kyrgyzstan -- A newly wedded Kyrgyz-Uzbek couple has become the first to receive a cash payment for people in mixed marriages in southern Kyrgyzstan, RFE/RL's Kyrgyz Service reports.
The local government in the village of Kara-Suu near Osh today presented a check for 100,000 soms ($2,100) to Arstan Kalbaev, an ethnic Kyrgyz, and Zilola Jamalidinova, an ethnic Uzbek, after their wedding.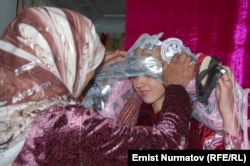 Zilola Jamaldinova dresses for the ceremony.
On March 4, local authorities in the Kara-Suu district of Osh region, one of the worst hit by deadly ethnic violence last year, decided that teachers in mixed Kyrgyz-Uzbek marriages would receive cash payments in a bid to keep them from leaving Kara-Suu.
Authorities decided to pay young mixed Kyrgyz-Uzbek couples where one spouse is a secondary-school teacher the equivalent of $2,100 -- more than 30 times a teacher's average monthly salary.
The one-off cash payments are part of a drive to motivate young teachers not to leave their native district. Teachers married to a spouse from the same ethnic group will receive $400.
Local authorities told RFE/RL that the decision was made in order to keep young professional teachers in the region and to "strengthen interethnic concord in the district."
But after the local government announced the decision, many people in Kara-Suu protested and demanded that not only teachers but newly married Kyrgyz-Uzbek couples should receive the allowance.
The local government agreed to extend the allowance to all Kyrgyz-Uzbek newlyweds.
Kara-Suu is the only district in the south to introduce such cash payments.
In mid-June last year, violent clashes between local Uzbeks and Kyrgyz in Kyrgyzstan's southern Osh and Jalal-Abad region killed more than 400 people.
Read more in Kyrgyz
here