Asylbek Koibagarov had just turned 21 years old when he found himself, with thousands of others, demonstrating in front of the Kyrgyz government building in Bishkek one year ago.
"Like any other young Kyrgyz person, I wanted a better future and freedom," he says. "But in my country the government was pushing people into poverty, so I decided to join those protesting to demand change."
The protest, on Ala-Too Square, would turn violent, with shots fired on both sides. It would ultimately deliver the coup de grace to President Kurmanbek Bakiev's stormy tenure.
What blossomed into full-scale revolt in the capital had its origins in smaller protests that took place throughout the country in the days and weeks leading up to April 7, 2010.
In places like Tokmok, a town directly to the east of Bishkek along Kyrgyzstan's northern border with Kazakhstan; Naryn, a city in the eponymous northern province; and the northeastern province of Issyk-Kul, protesters expressed their anger over a variety of issues: rising energy prices and economic hardship; unemployment and a lack of career opportunities; and widespread corruption and general unhappiness with Bakiev's government.
WATCH -- Anatomy of an Uprising:
The authorities attempted to silence their critics. A number of opposition leaders were sent to prison, and there was a muzzling of the media. In March, Bakiev declared that Western-style democracy had run its course in Kyrgyzstan, dashing hopes that the man brought to power by popular uprisings in 2005 would deliver promised democratic reforms.
Then things turned ugly, starting in the northwestern city of Talas. On April 6, protesters seized a government building before losing control of it after police stormed it, and then regaining control once again. Dozens were injured in clashes that took place throughout the day. Police resorted to tear gas and rubber bullets to disperse a crowd of around 3,000 demonstrators.
The scene was set for the president's undoing a day later, when thousands of people gathered in front of Bakiev's presidential residence in the government building.
One year later, the events that unfolded that day are seared into the memories of those who were there, whatever their role. RFE/RL speaks to some of them -- a protester, a policeman, and a doctor.
Mayhem On The Square
Asylbek Koibagarov was in northern Chuy Province, where opposition supporters had been organizing rallies in front of the local administration building, when he decided he would head to the capital early on April 7.
"When we arrived at the central Ala-Too Square, there were already large crowds of people demanding Bakiev's resignation," Koibagarov says. "And suddenly there was chaos, shooting, blood. No one was expecting it.
"It was a terrifying scene. Soldiers or some kind of snipers began shooting at people from the White House [government headquarters]. I wish I could forget that horrible sight. I was there witnessing people being killed."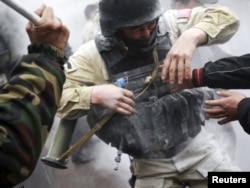 Protesters try to take a rocket-propelled-grenade launcher from a riot policeman during clashes in Bishkek on April 7, 2010.
Official figures suggested that nearly 90 people were killed, most of them protesters, and hundreds more were wounded.
Scenes of the clashes show protesters armed with clubs and stones pitted against armed police, security-service personnel, and government troops. Live rounds were used against the crowd from the government building. The crowd tried to ram the gates of the complex with vehicles.
Policeman On Duty
Almaz Akchekeev was a police officer whose usual duty was to patrol the streets of Bishkek. But on April 7, Akchekeev was deployed to the government building along with dozens of his colleagues.
"We came to the square around one o'clock in the afternoon," Akchekeev recalls. "Suddenly a large number of people poured into the square. People were throwing stones at us."
Akchekeev says he had no special equipment to protect himself -- no helmet, no shield.
"We were moving backward and I suddenly fell," Akchekeev says. "I tried to get up, but I couldn't. Blood was coming from my mouth. My legs were covered in blood, too. My colleagues carried me to an ambulance and sent me to the hospital."
It was the last thing he remembers. He woke up two days later to hear that doctors had amputated both of his legs. The 32-year-old policeman and father of two small children was told it was the only way that doctors could save his life.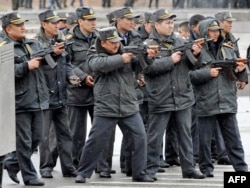 Policemen face opposition protesters in Bishkek on April 7, 2010.
A Long Day, A Busy Night
More than 1,000 people were admitted to Bishkek hospitals as a result of the April 7 violence. Ernis Tilekov, a surgeon who was on call at the National Surgery Center, recalls the chaotic situation.
"Doctors were extremely busy; no one went home that night," he says. "People with injuries began arriving around one o'clock in the afternoon. At first, they came in small numbers. Then suddenly they were being admitted en masse.
"There were young people with multiple gunshot wounds to the chest, stomach, and legs and arms. In our center, up to 15 or 16 people were undergoing surgeries at the same time. We didn't have enough operating theaters, so on some patients we performed surgeries on gurneys."
The doctor says the medical center had never seen so many seriously injured patients in urgent need of care.
"Perhaps I will never forget all of this," Tilekov says. "But what I remember most is that amid that tragedy, blood, and panic there were people -- total strangers --coming to our hospital offering to donate blood to the injured; offering food and money. They were complete strangers who wanted to help."
An injured protester is carried away during clashes with police in Bishkek on April 7, 2010.
As doctors were treating the injured, the announcement came that Bakiev had fled the capital for his native village of Teyit in southern Kyrgyzstan. The news came that the opposition had formed an interim government, naming former Foreign Minister Roza Otunbaeva as acting head.
The government went on to change the political system, seeking to establish the first parliamentary democracy in Central Asia, a region known for its long-serving, autocratic presidents. That goal was reached when parliamentary elections held in October brought a parliamentary coalition to power.
Challenges That Lay Ahead
The strength of the fledgling government has been tested since Bakiev was removed from power. Economic hardship remains, as do unemployment and a lack of career opportunities. Allegations of corruption continue. Alarm bells have been raised over the sight of former Bakiev allies in the government.
By far the most serious test was the fierce ethnic violence that broke out in June in the country's south, Bakiev's traditional support base. The violence there left hundreds dead and drove hundreds of thousands of people, mostly ethnic Uzbeks, from their homes. The government was harshly criticized for the way it handled the crisis, and the lingering fear is that violence could erupt again.
Koibagarov, the young protester, is unbowed. He continues to have high hopes for the new government -- that living conditions will improve and that opportunity will follow.
Akchekeev, the policeman, is not nearly so optimistic. He and his family live in a single room in a dormitory. They share a bathroom with four other families. There are no facilities for the disabled, and although the authorities have promised Akchekeev an apartment, he is still waiting to hear back from them.
"I wish, at least, I had lost only one leg -- I would be able to take care of myself," Akchekeev says. "Now I depend on my wife's help for everything, and it's not fair to her."
RFE/RL's Kyrgyz Service contributed to this report