MINSK -- The Belarusian lawyer of a jailed former opposition presidential candidate has been disbarred, the latest legal defender to be stripped of his license after working with the opposition, RFE/RL's Belarus Service reports.
The Minsk City Attorneys' Board on March 3 disbarred Paval Sapelka, who officially represents the interests of three jailed opposition activists charged with organizing and participating in December's postelection unrest in Minsk.
They are Andrey Sannikau, who ran in the December 19 presidential election, and activists Paval Sevyarynets and Zmitser Dashkevich.
Sapelka told RFE/RL that he could not comment on the Attorneys Board decision until he received official notification that he had been stripped of his license to practice law.
He added that he was sorry that he would be unable to continue to defend his clients.
Sapelka said he was unsure whether he would be able to find a lawyer who could take over their defense.
"At this precise moment there are not so many professional lawyers who are eager to take on that case," Sapelka told RFE/RL.
Last month, four Belarusian lawyers defending opposition activists were similarly stripped of their licenses.
Read more in Belarusian
here
Special Page: Belarus Crackdown
Crackdown In Belarus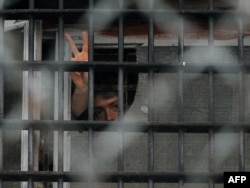 A special page devoted to coverage, views, and multimedia features on authorities' response to public doubts about Belarus's presidential election.
Click here