Part article of faith, part spy novel, the mystery of Imam Musa al-Sadr, a prominent Shi'ite leader who disappeared while on a visit to Libya in 1978, has lingered for decades.
The country is beginning a dramatic new chapter in its history. Government forces are pitted against rebel troops in ongoing fighting. International forces are launching air and missile strikes as they try to establish a UN-mandated no-fly zone. And pundits are speculating whether Colonel Muammar Qaddafi will prevail or be ousted as Libyan leader.
Among those wishing for the latter outcome are those who believe Qaddafi's downfall could once and for all determine the fate of al-Sadr.
It has long been believed that the Iranian-born cleric was killed on Qaddafi's orders. Some hold out hope that he is still alive, however, believing he could emerge from prison as an octogenarian ready to reclaim his role as a prominent voice of Shi'a Islam.
"He really believed in religious and political pluralism, and he was supporting a very moderate and advanced version of Islam," Mehdi Khalaji, an analyst at the Washington Institute for Near-East Policy, says in explaining al-Sadr's legacy. "For example, women [should] have many more rights than Islamists in Iran would give them."
Continued Interest
Al-Sadr continues to stand out as a global figure, as evidenced by conferences on his philosophy held in Iran, his ubiquitous image on posters throughout south Lebanon, and charitable organizations named in his honor in the United States.
The recent crisis in Libya has highlighted the continued interest in al-Sadr's life and disappearance.
In Lebanon, firebrand Hizballah leader Hassan Nasrallah has recently stated that his party will hold the Libyan government responsible for the fate of al-Sadr.
In Iran, parliamentarians on March 8 announced a new special committee to investigate his fate.
In Iraq, the country's most prominent Shi'a leader, Grand Ayatollah al-Sistani -- who normally avoids commenting on political matters -- recently asked his faithful to pray for the "freedom of Imam Musa Al-Sadr."
Hopes have been buoyed over the years by the Musa Al-Sadr Research and Cultural Center, which has promoted the idea of al-Sadr's survival. Earlier this month, his daughter, Hawra Sadr, told a Lebanese newspaper that she believes her father is still alive.
"All evidence shows that he was killed immediately," Khalaji says, "but his family, his friends, and his fans do not want to believe it. And they have the right not to believe it, because he was a great man, and they still try to be hopeful until they see evidence."
Energy And Leadership
Musa Al-Sadr was born in Qom, Iran, in 1929 to a prominent Lebanese family from Tyre. As a student, al-Sadr distinguished himself in Islamic studies at Qom, the traditional Shi'a center of learning, and also earned a degree in political science at Tehran University.
He returned to Lebanon and by 1960 had risen to become the leader of the Shi'a community in Tyre. His energy and leadership soon made him an important domestic and regional political figure. Many of his family members are now important political figures in the Shi'a world. Muqtada al-Sadr, a distant cousin, is a prominent politician in Iraq, and a niece is currently married to Mohammed Khatami, the former Iranian president.
In 2008, the government of Lebanon formally indicted Qaddafi in domestic courts over the imam's disappearance. In recent days, Lebanon has been one of the most ardent supporters of the UN-imposed no-fly zone in Libya.
In Iran, al-Sadr is a figure looked upon positively across the political spectrum.
Even as the government-controlled parliament conducts its investigation, the Iranian opposition has forwarded the idea that if al-Sadr were alive, he would be a strong critic of the Iranian government.
Increasingly Marginalized
Al-Sadr's political and social views are as complex and mysterious as his 1978 trip to Libya. While a critic of Israel, he believed that the tactics of the Palestinian Liberation Organization (PLO) endangered Lebanese civilians.
His greatest successes were ecumenical efforts within disparate Shi'a communities and interfaith outreach. He eventually founded the Amal movement, which although originally intended to empower Lebanese Shi'a through peaceful means became an important faction in the Lebanese civil war.
Increasingly marginalized, he agreed to meet with Qaddafi, who bankrolled many PLO activities in the 1970s.
The relationship between the two men had been less than cordial, but al-Sadr's planned rapprochement was designed to outflank his enemies in the PLO. After checking into a Tripoli hotel on August 31, 1978, he disappeared along with his two traveling companions.
The Libyan government maintains they departed the country for Rome, but the Italian government has repeatedly stated that they never arrived.
A former Libyan diplomat told RFE/RL on condition on anonymity about conversations he had earlier this month with people close to the Qaddafi regime. Based on those conversations, he says he believes the Libyan government attempted to send a fake Musa al-Sadr to Italy.
"Musa al-Sadr did not leave Libya at that time -- 1978. They brought a gentleman with a similar look. They put him on a plane, and the Libyan Embassy there took and returned him [to Libya] under a different name," the diplomat says.
And what happened to the real Musa al-Sadr?
"There are two rumors," he says. "[That] he's still alive, while some others [say] they shot him dead."
Liveblog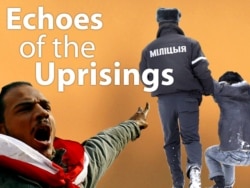 Tracking events and ideas convulsing the Arab world and with ripples around the globe, including RFE/RL's broadcast region.
Click here