UN buildings and some foreign missions were targeted by angry crowds following a NATO air strike that reportedly killed a son of Muammar Qaddafi.
A UN official told the BBC its staff would withdraw from Libya and that it would review the decision next week.
Britain expelled the Libyan ambassador after its premises were attacked in Tripoli.
The Italian Foreign Ministry has condemned "acts of vandalism" on its embassy. Italy recently joined the NATO mission in Libya.
There were also protests outside the U.S. mission in the city.
Qaddafi reportedly survived a NATO air strike on a Tripoli house that unconfirmed reports claim killed his 29-year-old son and three grandchildren.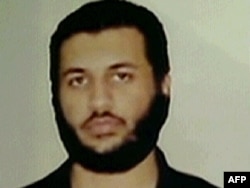 A TV grab shows Seif al-Arab Qaddafi, son of Muammar Qaddafi
"The leader himself is in good health. He was not harmed," Libyan spokesperson Moussa Ibrahim told reporters today. "His wife also is in good health. She was not harmed."
Ibrahim earlier told reporters that the air strike makes "clear to everyone that what is happening in Libya has nothing to do with the protection of civilians."
NATO denies directly targeting Qaddafi or his family. "We do not target individuals," NATO said in a statement, adding that the strike came as part of a broader offensive.
British Prime Minister David Cameron said today that operations in Libya were "in line" with United Nations guidelines.
It appeared to be the second NATO strike near to Qaddafi in 24 hours.
A TV station was hit earlier as Qaddafi was making an address, saying he would never step down and offering to talk to the rebels.
The rebels dismissed the offer, saying they cannot trust Qaddafi.
A prominent Russian parliamentarian, Konstantin Kosachyov, today criticized NATO over the latest air strike.
"More and more facts indicate that the aim of the anti-Libyan coalition is the physical destruction of Qaddafi," Kosachyov said.
Russia abstained when the UN Security Council voted in support of a resolution authorizing "all necessary measures" to protect civilians from pro-Qaddafi forces.
compiled from agency reports