WASHINGTON -- U.S. Secretary of State Hillary Clinton has chosen a retired senior diplomat and former ambassador to Turkey as the Obama administration's new special envoy to Afghanistan and Pakistan.
Fifty-nine-year-old Marc Grossman is a vice president at the Washington-based international consulting firm the Cohen Group, which he joined after ending a nearly 30-year diplomatic career in 2005 as undersecretary of state for political affairs.
Grossman will fill the vacancy created by the sudden death in December of Richard Holbrooke, for whom the White House created the position of special envoy to Afghanistan and Pakistan in January 2009.
He steps in at a critical time in U.S.-Pakistani relations, which have fallen to their lowest point in years following a dispute over the diplomatic status of a U.S. Embassy worker accused of a double murder in Lahore. The White House has suspended high-level contacts with Pakistan over the incident and postponed its scheduled U.S.-Pakistan-Afghanistan Trilateral Meeting at the State Department next week.
Grossman's diplomatic career highlights include a posting to Islamabad from 1977 to 1979; serving as ambassador to Turkey from 1994 to 1997; assistant secretary of state for European affairs from 1997 to 2000; and director-general of the U.S. Foreign Service.
His appointment marks something of a departure for the State Department. Where Holbrooke was often described as "larger than life," "hard-nosed," and, sometimes "arrogant," Grossman is said to be just the opposite.
'Consummate Professional'
Daniel Markey is the senior fellow for South Asia issues at the Council on Foreign Relations and was on the State Department's policy-planning staff when Grossman was undersecretary for political affairs.
Grossman, he says, "is known for being relatively low-key. He is the consummate professional. He's not a hard-charging type, but he will deliver whatever messages need to be delivered. So in many respects, he's different in tone and style than Ambassador Holbrooke, who was obviously known to be much more hard-charging and, depending on the situation, extremely charismatic and politically driven in a way that Grossman will not be."
Holbrooke brought an unimpeachable work ethic to the challenging post -- at the time of his death he was known as the hardest-working diplomat in Washington -- and a record of impressive diplomatic achievements, including brokering the Dayton peace accords, which ended the Bosnian war in 1995.
But his personal style irked some of the officials with whom he was charged with strengthening diplomatic ties, including Afghan President Hamid Karzai, who had a famously chilly relationship with the U.S. diplomat.
"I have not come across anybody else who won either quite as much praise and attention, or in some circles, created such frustration -- or in the case of certain circles in India, certainly President Karzai and others found him very difficult to work with," Markey says. "So people ran hot or cold on Ambassador Holbrooke. I think Grossman will be somewhat more in the middle."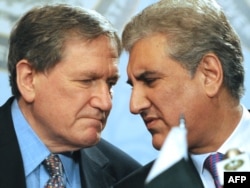 Richard Holbrooke (left) with Pakistani Foreign Minister Shah Mehmood Qureshi in Islamabad in April 2009
At the State Department, Holbrooke assembled a team of regional experts from across and outside government to carry out his wide-ranging mission of coordinating the U.S. civilian strategy of the White House's Af-Pak policy.
When he died on December 13 after suffering a torn aorta, one of his team members, Frank Ruggerio, stepped in as acting envoy. Ruggerio previously served as head of the provincial reconstruction team in Kandahar, Afghanistan, and is expected to remain on the team with a possible new focus on reconciliation talks between Kabul and the Taliban.
The search for Holbrooke's permanent replacement took the administration almost two months and, by some accounts, was delayed by disputes about the scope of the job, which Markey says was created with Holbrooke in mind, and whose breadth, power, and flexibility made it unique within the State Department.
The search reportedly led the administration to consider at least four candidates before Grossman was approached. "The Washington Post," which broke the news of Grossman's selection on February 14, quoted a candidate who spoke to Clinton about the post as saying the White House was looking for someone with "a more traditional diplomatic background whose duties would be restricted to representing the administration in the region."
Many Considered
Michael O'Hanlon, a senior fellow at the Brookings Institute who specializes in national security and defense issues, says the administration first and foremost wanted someone with established diplomatic credentials.
"There were a number of names that were apparently floated, or individuals who were approached before Grossman, and who for one reason or another declined the job. And so I don't think that Grossman represents the clear, one, specific choice that the Department [of State] or that Hillary Clinton or that Barack Obama definitely wanted to make," he says.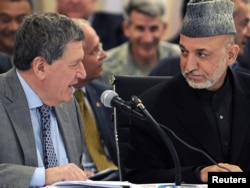 Afghan President Hamid Karzai (right) had a famously chilly relationship with Holbrooke.

"I'm not going to suggest that he's the last choice they wanted to make either, but he is perhaps the fourth or fifth person they tried," O'Hanlon adds. "And what that suggests is they wanted someone of a certain stature. All the names that we've seen floated were people who had been undersecretary or deputy secretary -- not so much sort of the young, workhorse regional expert, but more the established, silver-haired diplomat -- and that's the personality type they went for."

Senior administration officials confirmed to "The Washington Post" and "The New York Times" that among the candidates considered were Nicholas Burns, former undersecretary of state for political affairs under President George W. Bush; Strobe Talbott, former deputy assistant secretary of state under President Bill Clinton; former U.S. Ambassador to Egypt Frank Wisner; and former Clinton Chief of Staff John Podesta.

O'Hanlon says Grossman has "probably as many [attributes for the job] as you're going to find in any one person" and says his deep knowledge of how the State Department works is going to come in handy as he tries to integrate the various government bureaucracies that come into play in the White House's Af-Pak strategy.

He also thinks Grossman's international experience will help him in his dealings with the dozens of countries that contribute troops to Afghanistan and aid to both Kabul and Islamabad. The one area where Grossman might be considered underqualified, O'Hanlon says, is in his knowledge of the region.

In that area, he said State Department had to make a trade-off to get a diplomat with the kind of world-stage experience Grossman brings to the post.

"That is a weakness of Grossman's. I'm not sure it's a fatal one. I don't think it is. I think he's probably well aware of this weakness, and he's probably planning to address it already," O'Hanlon says.

"Moreover, he's not the ambassador to Afghanistan or the ambassador to Pakistan or the commander of ISAF [the NATO-led force in Afghanistan], so he doesn't necessarily require the level of detailed tactical knowledge of all the individual players in all those countries. So my guess is that his strengths will substantially outweigh his weaknesses."

'No Means A Downgrading'

Markey says now that the Obama administration has chosen its new Af-Pak special envoy, it needs to make sure that the regional players don't see Grossman's selection as a downgrading of the role Holbrooke raised to such prominence.

"I think if there's a challenge for the administration in the appointment of Grossman, it is to make it clear that this is by no means a downgrading of the position -- or at least of the administration's concern about Afghanistan and Pakistan because he's a lesser profile," Markey says. "People knew Ambassador Holbrooke much more widely and he was a media personality in a way that Grossman is not."

Grossman won't get much of a chance to ease into the job. In addition to the current crisis in U.S.-Pakistani relations, Washington is also preparing to begin the withdrawal later this year of some of its 100,000 troops from Afghanistan, where violence from the insurgency is at its highest level since 2001.

Even before those latest developments, however, the daunting challenges in the region defied even Holbrooke's considerable diplomatic skills.

Markey calls the Af-Pak special envoy post "a nearly impossible job" -- incredibly tough, totally exhausting. And because it is only one aspect of a massive overall U.S. strategy, a job with less freedom to make individual decisions than other diplomatic jobs.

So why does he think Grossman said yes when others said no? "It's exciting to be engaged in some of the most challenging and yet some of the most important foreign policy issues we face today, to be in a position of leadership on those issues," he says.
"Given all the negatives, professionals like Grossman believe that they can make a positive difference and they're willing to give it a shot."
Grossman will get his shot as soon as the State Department finishes its background check.