A massive crowd has gathered in Yemen's capital for the funerals of political activists who were among more than 50 protesters gunned down by snipers during a demonstration in Sana'a.
At least 28 bodies were laid out as the crowd massed under tight security near Sana'a University, the center of more than a month of protests that have shaken the regime of President Ali Abdullah Saleh.
The opposition demands the president -- a key U.S. ally in the war against Al-Qaeda in the region -- resign this year.
Saleh has refused to quit until his current term expires in 2013.
Saleh has declared March 20 a "national day of mourning" and described those killed as "martyrs for democracy."
But he blamed the opposition for "incitement and chaos" that led to the killings.
Western news agencies quoted an official in Yemen's Foreign Ministry on March 20 as saying the country's ambassador to the United Nations -- Abdullah Alsaidi -- had resigned in protest at the shootings.
compiled from agency reports
Liveblog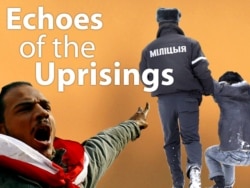 Tracking events and ideas convulsing the Arab world and with ripples around the globe, including RFE/RL's broadcast region.
Click here