Russians React To John McCain's Pravda.ru Op-Ed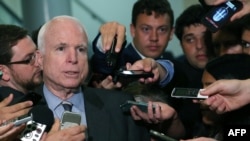 Following an op-ed in "The New York Times" by Russian President Vladimir Putin, U.S. Senator John McCain promised to write a response for the Russian website Pravda.ru. It was published on September 19.
* CORRECTION: The Storify text initially mischaracterized the "Lev Sharansky" Twitter account.
About This Blog
Written by RFE/RL editors and correspondents, Transmission serves up news, comment, and the odd silly dictator story. While our primary concern is with foreign policy, Transmission is also a place for the ideas -- some serious, some irreverent -- that bubble up from our bureaus. The name recognizes RFE/RL's role as a surrogate broadcaster to places without free media. You can write us at transmission+rferl.org