From the Tajik-Afghan border in the south to Kyrgyzstan's capital of Bishkek in the north, it has been a violent winter. The cold months are usually an uneventful time in mountainous Kyrgyzstan and Tajikistan, but this season was different.
There were bombings in Kyrgyzstan's capital, lingering ethnic tensions in the southern part of the country, and several clashes between security forces and Islamic groups in eastern and northern Tajikistan. Reported incidents of terrorist attacks and activity in Kyrgyzstan and Tajikistan have never been so frequent as they have since last September.
With mountain passes leading through both countries into Afghanistan starting to open in the spring thaw, concerns are high that militant violence could soar.
The political situation in both countries, according to analysts, could play into the hands of Islamic militant groups trying to gain wider influence in the region.
In Tajikistan, the increasingly authoritarian approach of the government, particularly toward suspected Islamic groups, is breeding discontent among the population. At least one militant group in Tajikistan is reportedly offering the equivalent of three years' wages ($1,500) to attract new members.
In Kyrgyzstan, the fledgling parliamentary government is still far from extending control over the entire country, particularly in the south, where ethnic Kyrgyz and Uzbeks killed each other during bloody ethnic riots last June.
And residents of the Kyrgyz-Tajik border area are practically at war.
Exploiting Ethnic Strife
Militants groups continue to try to exploit the unrest for their own ends.
The Islamic Movement of Uzbekistan (IMU), now under a new leader in Pakistan's tribal area, is promising to make a comeback in Central Asia. The IMU claimed responsibility for killing 28 Tajik soldiers in an ambush in September and its spokesman, Abdufattoh Ahmadi, said in an interview with RFE/RL's Uzbek Service at the time that the group had more "plans" for the region.
New IMU leader Usmon Odil has also spoken of retribution following last summer's ethnic violence in Kyrgyzstan. The Uzbek minority of southern Kyrgyzstan certainly suffered the most in the ethnic clashes. And beyond the immediate killing and property destruction, Uzbek communities were routinely targeted in subsequent security sweeps. There have been more than 100 people tried following the violence and nearly all of the defendants have been ethnic Uzbeks -- a fact criticized by international rights organizations.
"The Kyrgyz government claims that those arrested are members of organizations like Hizb ut-Tahrir or the IMU," says Lilit Gevorgyan of Jane's Information Group, "whereas the Uzbek community members are maintaining that it is again a pretext to go after and persecute the Uzbek minority that is already beleaguered after the ethnic clashes in June 2010."
For the mainly ethnic Uzbek IMU, this is has been a chance for recruitment. In February, Kyrgyz President Roza Otunbaeva said the abuses of police and security forces in southern Kyrgyzstan had driven some 200 young people from Kyrgyzstan to militant camps in Afghanistan. Parliament deputy Nadira Narmatova of the Ata-Jurt party warned in January that "young extremists, who have been trained abroad, are arriving in Kyrgyzstan." Narmatova said the "extremists" were coming back to take revenge on Kyrgyzstan.
At the same time, Uzbekistan's government has practically quarantined the border with Kyrgyzstan. According to David Trilling, the Bishkek-based Central Asia editor for Eurasianet.org and frequent traveler in the populous Ferghana Valley that runs through the region, this is having dire economic consequences for both ethnic Kyrgyz and Uzbeks in Kyrgyzstan.
"Uzbekistan closed its border with Kyrgyzstan following the uprising in Bishkek last April, it's remained technically closed and that's hurting Kyrgyz traders who had come to rely on reexporting Chinese goods to Uzbekistan primarily through the massive bazaar in Kara-Suu right on the border, about 20 minutes outside of Osh," Trilling says.
"One recent study carried out in Bishkek found that business there at the bazaar has dropped by 75 percent in the last year and that's putting an enormous economic strain on southern Kyrgyzstan," he adds.

Looking Nervously Over The Border
In Tajikistan, meanwhile, there are also concerns about a newly revitalized IMU just across the border.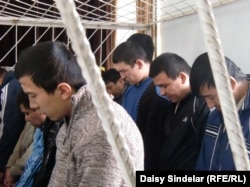 The fact that mostly ethnic Uzbeks have been jailed for the violence in southern Kyrgyzstan has kept the area tense.
The IMU was decimated in Afghanistan's Konduz Province, adjacent to Tajikistan, in November 2001 when the U.S. military bombed the region in its campaign to topple the Taliban. Their military leader, Juma Namagani, was killed and the remaining IMU forces fled to Pakistan's tribal areas.
But the IMU has returned to Konduz. In August 2009, the Afghan newspaper "Arman-e Melli" reported IMU members were seen there. In January 2010 Konduz Governor Mohammad Omar, who was later killed in a terrorist bombing, told Afghan radio the Taliban and Al-Qaeda were using his province and other northeastern provinces to prepare for attacks on Central Asia, particularly Tajikistan.
IMU fighters have been reported killed in Konduz several times since then. In September and November, large groups of militants in Afghanistan attempted unsuccessfully to shoot their way past Tajik border guards.
And on April 22, NATO announced that its forces had captured an IMU leader in the Khanabad district of Konduz along with two associates during a military operation on April 20. The statement did not give the IMU leader's name but did say he had escaped from an Afghan jail in 2010.
Amirkul Azimov, head of Tajikistan's National Security Council, recently expressed his concern at the militant groups forming in Afghanistan. "They are stateless people who are out to destabilize the situation," he said.
Azimov's use of the term "stateless people" is significant, since the IMU is not the only Islamic group that worries the Kyrgyz and Tajik governments. The Tajik government has said security forces killed IMU militants in several operations in the northern Isfara region that neighbors Kyrgyzstan.
But a previously unknown group calling itself Jamaat Ansarullah claimed responsibility for a September 3 suicide bombing of a police station in the northern Tajik city of Khujand that killed two people. Tajik authorities later confirmed the existence of such a group and added it to the list of other banned Islamic groups such as Hizb ut-Tahrir, Salafis and Tablighi Jamaat, described as being militant throughout Central Asia.
And there was Mullo Abdullo, the 60-year-old former Tajik opposition field commander who was reportedly killed on April 15 after a seven-month hunt through Tajikistan's eastern mountains. Tajik authorities blamed Abdullo for an ambush in September that killed 28 soldiers.
In Kyrgyzstan, the authorities blamed another previously unknown group, Jaishul Mahdi (Army of the Righteous Ruler), for the bombings of a synagogue in September and sports hall in Bishkek in November and a failed bombing attempt outside police headquarters in the capital in December. Seventeen members of the group were either killed or captured in early January after they killed three policemen and one member of the security force in the Bishkek area.
The chairman of Kyrgyzstan's state National Security Committee, Keneshbek Duishebaev, said the group was planning other attacks, including one on the Manas air base being used by U.S. forces for operations in Afghanistan. The newspaper "Vecherny Bishkek" later quoted Duishebaev as saying all 17 killed members of the group were ethnic Kyrgyz, a first for a Central Asian terrorist group.
Ill-Prepared On Security
Kyrgyzstan and Tajikistan seem ill-prepared to counter the growing terrorist threat. Kyrgyz Interior Minister Zarylbek Rysaliev said in January his forces and those of the state National Security Committee were not capable of combating terrorism. He said there were only 8,000 policemen in the entire country of 5.4 million.
During the hunt for Mullo Abdullo in Tajikistan, more than 60 soldiers were killed in combat and combat-related accidents trying to chase down a group of a few score militants.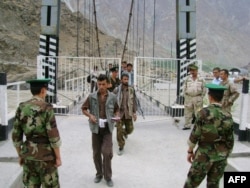 Tajik border guards check ID on the Afghan border, where militant activity is on the rise.
Making matters worse, ethnic Kyrgyz and Tajik residents along the common border have come to blows over land disputes. Tensions were heightened after Kyrgyz troops destroyed an apricot orchard of about 400 trees that Tajiks claimed they owned. Clashes have continued in the same area, not far from where Tajik security forces clashed with IMU militants late last year.
That border dispute could hinder cooperation between the Kyrgyz and Tajik authorities if the militant threat appears in the region.
Jane's analyst Gevorgyan says that individually, the groups do not pose a serious threat to the Kyrgyz and Tajik governments at this time. But the real threat is of such groups multiplying and drawing in more supporters. "The Islamist groups may at some point reach out to each other and have better coordination and better ideological preparation and a common message," she notes.
This would be the worst-case scenario for Central Asia's governments. And unfortunately, the measures being taken by Kyrgyz and Tajik authorities, and circumstances beyond their control, are combining in ways that seem to actually help the militants.
Salimjon Aioubov of RFE/RL's Tajik Service, Mustafa Sarwar of RFE/RL's Radio Free Afghanistan, and RFE/RL's Uzbek Service director Alisher Sidikov contributed to this report