SARATOV, Russia -- Looking thin and haggard and aged beyond his 30 years, a Russian soldier who went missing more than a decade ago recently walked into his hometown and knocked on his mother's door.
"My mother didn't even recognize me," the soldier, Andrei Popov, says as he describes the scene to RFE/RL's Russian Service. "I and my younger brother were barely able to catch her -- she fainted straight away. My brother, my sister, my mother all said that they had already buried me twice."
But the joy of the reunion was short-lived. Andrei's sister, Olga Popova, tells how she got the news.
"On August 18, my mother called me and said that Andryusha had returned. I couldn't believe it," Popova says. "At first, mama couldn't even say a word -- she was still recovering from the shock. Then she said that he was thin, had lost a lot of weight, his eyes were sunken. She said he looked 10 years older than his age."
She describes how the next morning, she and her husband rushed home to see him.
"I never even saw him at home," Popova says. "In the morning, he went to the police and they locked him up. They wouldn't let him see his relatives or anyone else. When I arrived, they wouldn't let us in."
Police in the town of Ershov had discovered that a case on charges of desertion had been filed against Popov in 2000 and arrested him.
Now, Russian military investigators are looking into the strange case, trying to figure out what happened to Popov and where he has been for the last 10 years.
Question Of Captivity
There are few established facts in Popov's case. On January 5, 2000, he was drafted into a military construction unit in Saratov Oblast. On September 30, 2000, Popov was sent to a construction site in the oblast town of Tatishchevo. But he never appeared. Instead, he was reported as absent without leave and, after one month, his commanders declared him a deserter and issued an arrest warrant.
No one reported hearing from him again until he appeared out of thin air last month with a fantastic story. Popov says he was kidnapped that fall day in 2000 by unknown attackers and eventually wound up being held as a slave laborer in a brick factory in the North Caucasus republic of Daghestan.
Popov says he twice tried to escape before finally gaining his freedom on his third attempt and then making his way back to Ershov on foot.
"At 5 a.m. they woke us up, and at 6 we were already at work," Popov says of those days. "During the summer, we finished up at 10 p.m. -- they worked us hard until 10. The food, of course, wasn't like at home. You can't even compare it to what you get in the army."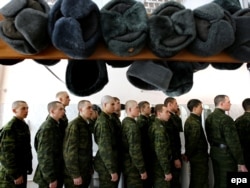 Heading for the door? Soldiers of Russia's 5th Brigade in training near the town of Narofominsk in February 2010.
Popov's story raises a lot of questions, including why he didn't turn himself in to police or the military in Daghestan when he escaped. However, there have been similar reports in the past.
In April, a resident of Saratov reported that he had been kidnapped in 2003 and held in Daghestan for eight years, working on an apricot farm and in a store. Police
reportedly freed him
after he was able to contact a friend through the Internet; details in the case are sketchy, however, and the victim's name has not been released.
In 2009, a soldier named Anton Kuznetsov was charged with desertion after going missing for nearly five years. He claimed that he had been sold into slavery in Daghestan by his commanding officers and, like Popov, was forced to work in a brick factory.
Kuznetsov claimed
there were several Russian soldiers at the factory and that they were regularly beaten and abused. Prosecutors later claimed that Kuznetsov had been living in Daghestan under a false name and had been convicted there for robbery three times, ITAR-TASS reported.
According to the same ITAR-TASS report, in 2009 prosecutors in the Daghestani city of Kaspiisk accused a brick factory of luring workers and then taking their documents and forcing them to work without pay. The company, Evrostroikomplekt, and its director, Radzhab Radzhabov, were fined in that case.
'For What Reason?'
Popov has since been released into the custody of his unit, pending a military investigation into his story. If he is convicted of desertion, he faces up to seven years in prison.
Olga Popova says there's no reason to believe that her brother deserted. She says he was pleased when he was drafted and that he says he was never hazed nor abused during his time in service.
"Andrei really wanted to go into the army," Popova says. "When his notice came, he reacted happily. Everyone was crying, but he went into the army joyfully and was quite satisfied. Then we got a letter saying that he had deserted."
She says the family was "all in shock" when it received that "tragic" letter on October 2, 2000.
"Particularly because he'd been home recently and hadn't complained about anything," Popova says. "He didn't say anything bad. We couldn't believe he would desert. For what reason? Why? We had a lot of questions."
Popov's lawyer, Yury Mileshin, tells RFE/RL's Russian Service that Popov has been illegally detained. According to the Criminal Code, Popov should have had a court hearing within 48 hours of his arrest. Instead, Mileshin says, he was sent off to his military base in order to minimize public attention to the case.
Lidia Sviridova, head of the Saratov branch of the Committee of Soldiers Mothers human-rights group, says her organization has also been denied permission to speak with Popov.
"We have been refused permission to contact him, which is a violation of the law on nongovernmental organizations, a violation of Andrei's rights and is, basically, a criminal act," Sviridova says. "Today we discussed with Andrei's relatives the idea of beginning a hunger strike with the single demand that representatives of the Committee of Soldiers Mothers be allowed to see him. Because at present we do not have the information necessary to form our own picture of his defense."
based on reporting by RFE/RL's Russian Service; RFE/RL correspondent Robert Coalson contributed to this story from Prague