In a
2 1/2-hour press conference on May 18
, Russian President Dmitry Medvedev fielded 34 questions. But observers say that he answered very few of them.
"The responses were general, nonspecific. I thought that in several cases they weren't answers at all," notes Vladimir Rimsky, who heads the sociology department of the INDEM foundation in Moscow:
"For example, he was asked what innovations in the area of law there will be in the near future considering technological advances," Rimsky added. "And he spoke about what had already been done, saying that new technologies facilitating electronic access to government services are being introduced. And that's all. And what is new in the area of law? After all, that's what the question was."

Moreover, the questions themselves were far from challenging and the event was carefully stage-managed. It was Medvedev's first major appearance in front of Russian journalists in his three years as president. No one asked him any questions about the fight against corruption, which -- together with "modernization" -- has been one of the rhetorical hallmarks of Medvedev's term.
Yevgenia Albats, editor in chief of the independent "Novoye vremya" (The New Times), tweeted from the press conference that she held her hand up the entire time and was not allowed to ask a question. She said the event was "shameful for Russian journalism."
Only 15 minutes into the event did a journalist ask Medvedev whether he plans to run for reelection in the 2012 presidential poll that is now just 10 months away. As with many of his other answers, the president was vague to the point of nonresponsiveness.
"Elections have their rules, and I will follow these rules. If I decide to make such a statement, I will make it," Medvedev said. "Just as I said recently in an interview with our Chinese partners, not too much waiting time is left in this situation, and this statement will be made quite soon."
He added that announcing such a decision should be made "in some other format than a press conference."
Putin's Presence Looms
The event at the new technology center of Skolkovo outside Moscow that is a the most visible achievement of Medvedev's presidency came two weeks after Prime Minister Vladimir Putin gave some strong indications that he intends to run for president, announcing the formation of an all-Russia popular front on May 6.
Mikhail Vinogradov, political analyst and president of the Petersburg Politics foundation, says the spirit of Putin was hanging over the press conference and the entire political process.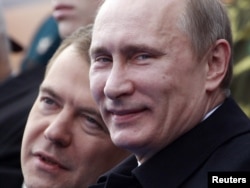 Medvedev (left) made pains to align himself with Vladimir Putin.
"For some time now Medvedev has been inventing new words to allow him to avoid answering the question about 2012. And there are a lot of words in Russian and, most likely, some new ones will yet appear," Vinogradov says. "But it's obvious that Medvedev is personally interested in accelerating the making of a decision on 2012 because the longer it's postponed, the greater the expectation grows that the ghost of Putin-President is hanging over us."
Medvedev and Putin have both said in the past that they will decide together which of them will participate in the 2012 election.
At Skolkovo, Medvedev seemed to take pains to position himself as close as possible to Putin. "My relationship with my colleague and my political partner Vladimir Putin is not just what is often referred to as a tandem," he said. "In fact, it is a relationship that has lasted for more than 20 years. We know and feel each other very well."
Medvedev said that he and Putin "have a very similar set of values. We both want our country to be modern, efficient, we want it to look good, we want the people to live well, we want reasonable and actionable decisions to be made, we want rights to be observed, and we want a diversified, modernized economy."
Talking Tough
In addition, he took some harsh positions that are more usually associated with Putin himself, rather than the purportedly more liberal and Western-style Medvedev.
Speaking on European missile defense, he stated that such systems are directed against Russia and that, if Russia's concerns are not addressed, Moscow will take "countermeasures" that could return the world "back to the epoch of the Cold War." He said he would not support a UN resolution on Syria because the resolutions on Libya had been "trampled upon by the actions of some countries."
Speaking about Ukraine, Medvedev said Kyiv faced a stark choice between Moscow and the European Union.
"If Ukraine chooses a European vector, it will, of course, be more difficult for it to find solutions within the framework of a single economic space [with the EU] and the customs union, which includes Russia, Kazakhstan, and Belarus, because this is a different kind of integration," Medvedev said. "You can't be everywhere. You can be either here or there. And this should be understood by everyone, including my Ukrainian friends and colleagues. You can't sit on two chairs. You have to make a choice."
In an apparent attempt to appeal to Russian liberals, Medvedev said releasing jailed oil tycoon Mikhail Khodorkovsky would "not be dangerous" to society. He also said the results of an investigation into the prison death of attorney Sergei Magnitsky "has made significant progress" and "will be known soon."
Cards Close To The Chest
Nonetheless, INDEM's Rimsky says that even just 10 months before the election, Medvedev would be foolish to make an announcement because of the way Russia's political system functions.
"In our system, if I were giving advice as a political consultant on whether to announce or not announce a decision to run, I'd categorically say, no, don't announce. The chances of the one who announces first are reduced," Rimsky says.
"So in this way, the president's position is completely rational. But it highlights the backwardness of our state bureaucracy. The state bureaucracy doesn't work for the country, but for the highest leadership, for those who make the decisions."
By contrast, Rimsky noted, U.S. President Barack Obama has already declared his intention to run for reelection in November 2012 and experts, journalists, and voters have already begun evaluating his performance so far.
The Moscow daily "Vedomosti" wrote today that "Medvedev's press conference was strange: he didn't sum up results or share any plans for the future." Ukrainian journalist Vladimir Fedorin wrote in the Russian version of "Forbes" that "Medvedev confirmed that he is nothing more than Vladimir Putin's shadow."
RFE/RL's Russian Service contributed to this report