An armed suspect has died outside the Russian capital after a fire engulfed his home amid a nine-hour standoff with police and security troops.
Media on March 31 quoted law enforcement sources as saying the man died after setting fire to ammunition located on the second floor of his house in the village of Novye Veshk, near the city of Mytishchi.
Fear of explosions from ammunition reportedly prevented firefighters from extinguishing the blaze, the sources said.
One police officer was reportedly wounded after responding to the crisis.
A police cordon that was imposed on the village after the standoff began in the afternoon of March 30 has been partially lifted.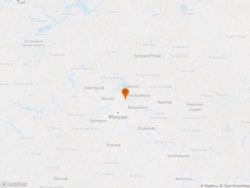 Investigators will start working at the site when it is safe to access what is left of the building, the reports said.
Earlier reports said that the man, identified as Vladimir Bardanov, born in 1960, had barricaded himself inside his home after he opened fire on police who entered his yard.
The reports said the man used automatic firearms, which are banned to private individuals by law in Russia, and threw several grenades from his house.
According to some local news agencies, the man opened fire at police and Federal Security Service (FSB) officers when they came to search his house on suspicion of illegal weapons possession.
Other reports said that law enforcement officers visited the man for an issue related to overdue taxes.
The Investigative Committee said after the crisis began that it had launched a probe into "attempted murder of law enforcement officers."
Based on reporting by RIA Novosti, TASS, and Interfax