WASHINGTON -- From the outside, it looks more like a dentist's office than an embassy. In reality, it is neither.
But a glance at the website of Nagorno-Karabakh's office in Washington, D.C., would suggest that inside this unremarkable, flagless building a few blocks from the White House exists something that at least resembles an embassy.
The
website
includes a "country profile," a list of "national holidays," information on the region's government and economics, and a section with instructions on how to obtain a visa.
Robert Avetisyan, whose styles himself the permanent representative of the Nagorno-Karabakh Republic to the United States, explains, "We implement all the procedures and we render the same assistance and render the same services as an embassy does."
Avetisyan, however, does not hold a diplomatic passport. And Nagorno-Karabakh is not a country.
Indeed, with a largely Armenian population on the one hand, and legal ties to Azerbaijan on the other, the region's long-term status is far from settled.

Unrecognized, But With An Office
Nagorno-Karabakh was the site of a bitter six-year war between Armenia and Azerbaijan from 1988-94 that saw tens of thousands killed and hundreds of thousands displaced. The mountainous territory unilaterally declared independence in 1991 and has enjoyed de facto autonomy since a cease-fire was declared in 1994.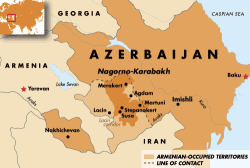 But landlocked and isolated, it remains largely dependent on Armenia. Nagorno-Karabakh is even represented by Armenia in the Minsk Process, the international -- and largely inert -- attempt to resolve the dispute.
But the de facto government in Stepanakert, Nagorno-Karabakh's capital, has established its Washington office in an effort to raise its profile in the hope that proximity to levers of power might sway the debate on the territory's status.
"In the views of major actors and in the eyes of the international community, 'territorial dispute' is a negative thing," Avetisyan says. "And there could be more or less a negative stance towards this issue. But if it's people who are fighting for their freedom and trying to finalize the decolonization process of the Soviet Union, it's an absolutely different story."
Avetisyan says one of his office's primary duties is to maintain the website, which along with embassy-like sections also contains detailed accounts -- from his side's perspective -- of the Nagorno-Karabakh conflict.
'Misleading The U.S. Public'
Yerevan claims that Nagorno-Karabakh is a historically Armenian territory called Artsakh. Since the breakup of the Soviet Union, when both Armenia and Azerbaijan gained independence, Yerevan and Stepanakert have argued that the territory has a right to self-determination.
Baku, on the other hand, claims that the territory is historically Azerbaijani and maintains that any attempt to detach Nagorno-Karbakh violates its territorial integrity.
Azerbaijan's embassy in Washington says that the office is "misleading the U.S. public" by spreading Armenian "propaganda" and presenting itself as an official representative of a territory that has no sovereignty.
The office's website directs would-be visitors to the territory to contact the Nagorno-Karabakh office in Armenia, which it says issues visas.
Nasimi Aghayev, a spokesman for the Azerbaijani Embassy, says that in the eyes of Baku, that direction amounts to promoting illegal activity.
"Because the Nagorno-Karabakh region is an internationally recognized part of Azerbaijan, those who want to travel there should respect the laws of Azerbaijan," Aghayev says. "And Azerbaijan has made it clear that traveling to Nagorno-Karabakh without permission by the authorities of the Republic of Azerbaijan is illegal and inadmissible."
Avetisyan also sends a monthly newsletter to influential Washington think tanks and produces a bimonthly general newsletter, which he says is read by "thousands" in the Armenian diaspora.
Front For Armenian Lobby?
Together with the Embassy of Armenia, his office helped organize an event last September at the U.S. Capitol commemorating of the 19th anniversary of Nagorno-Karabakh's self-proclaimed independence. The Congressional Caucus on Armenian Issues co-sponsored the event, which was attended by Senator Mark Kirk (Republican-Illinois), the caucus's co-chair.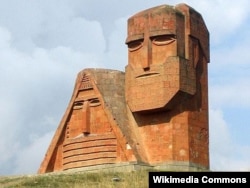 The statue in Stepanakert known as "We And Our Mountains" or "Grandma And Grandpa," perhaps the most recognizable symbol of Nagorno-Karabakh.
Due to its strong ties to Armenian-American organizations, however, Avetisyan must regularly counter those who say that his office is simply a front for Washington's influential Armenian lobby.
Indeed, his two rooms are provided free of charge by the Armenian Assembly of America, a lobbying group that shares a floor of the building. The office appears among a long list of lobbying groups registered under the Justice Department's Foreign Agents Registration Act.
Until recently, the cost of running the office was defrayed by Armenian-American groups, although Avetisyan says expenses are now completely covered by Nagorno-Karabakh's de facto government.
But Avetisyan, who freely admits that the support he receives from Armenian groups is "priceless," remains reluctant to accept the "lobby" description.
"It depends on what we call [a] 'lobby.' If we promote the interests of a state, if we promote the interests of ordinary people, if we promote peace, then yes," he says, "if that can be considered a lobby."
Abkhazia 'More Of A Player'
Whatever it's called, analysts say the clout the Armenian lobby enjoys in Washington has been indispensible for Nagorno-Karabakh's representative office.
Thomas de Waal, an expert on the Caucasus at the Carnegie Endowment for International Peace, a Washington think tank, notes that there might be better arguments to justify an office representing Abkhazia, a breakaway region in Georgia, than Nagorno-Karabakh.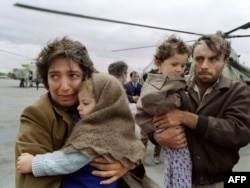 An Armenian family fleeing ethnic tensions in Nagorno-Karabakh arrive at the airport in Yerevan on May 13, 1991, after being evacuated by a Soviet Army helicopter.
"If you compare Abkhazia and Nagorno-Karabakh, for example, Abkhazia is larger, it has stronger institutions, it has an opposition, it has a media, and a stronger civil society than Nagorno-Karabakh," de Waal says. "So objectively speaking, Abkhazia is more of a player in the region than Karabakh. So there's an inconsistency there when you compare the two on the ground, [but] it all really comes down to Washington politics rather than local realities."
Georgia, of course, is one of the United States' staunchest allies.
De Waal says, however, that Nagorno-Karabakh remains largely isolated from the outside world and struggles to have its voice heard "thanks to the efforts of Azerbaijan."
What he calls the office's "positive role" is that it represents the voice of "a rather ignored party in a very important regional conflict."
Whether a distinct voice, a proxy for Yerevan's interests, or something in between, Avetisyan admits that he is not getting the attention he envisioned for his office.
His contacts are mainly with lawmakers already attuned to Armenian interests, and chances to speak with State Department officials are few and far between. But he says his office will continue on its mission.
Avetisyan is also not the only Nagorno-Karabakh representative abroad. The territory's government has offices in Australia, France, Germany, Lebanon, and Russia, as well as in Armenia.