Addressing a crowd that stretched as far as the eye could see in central Dublin, U.S. President Barack Obama concluded the first day of a weeklong European tour billed as an opportunity to strengthen ties between the United States and its European allies.
The trip comes at a time of shared economic difficulty and heightened concerns over Mideast countries lately shaken by a wave of popular "Arab Spring" protests.
In the Irish capital, Obama employed his old presidential campaign slogan -- and its Gaelic translation -- to encourage a country still struggling to recover from economic recession.
"Remember that whatever hardships the winter may bring, springtime is always just around the corner," Obama said. "And if they keep on arguing with you, just respond with the simple creed: 'Is Feidir Linn.' Yes, we can. Yes, we can."
Ireland is currently implementing severe austerity measures following a debt crisis that required the International Monetary Fund and European Union to step in with a bailout plan that could total as much as $100 billion.
Obama also paid tribute to the "blood link" shared by the United States and Ireland. Some 37 million Americans claim Irish ancestry.
One of them is Obama himself, and his visit to Ireland was billed locally as a homecoming of sorts.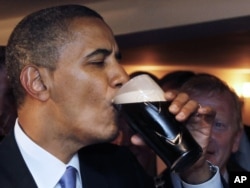 Obama drinks a pint of Guinness as he meets with local residents at a pub in Moneygall, the home of Obama's great-great-great-grandfather.
Before his Dublin speech, Obama and his wife, Michelle, visited Moneygall, a sleepy village of some 300 inhabitants southeast of the capital. The village was the home of the U.S. leader's great-great-great-grandfather, Falmouth Kearney, a shoemaker.
Earlier in the day, Obama met with Irish President Mary McAleese and Prime Minister Enda Kenny, after which he praised the country's international efforts.
"Ireland punches above its weight," he said. "It's a small country, but the work it does on a range of issues -- from peacekeeping to trainers in Afghanistan, to the work we're doing together on food security, to its strong voice on human rights -- all that makes an enormous difference around the world."
In his comments, the U.S. leader also singled out peace efforts in British-ruled Northern Ireland, where a 1998 peace deal ended decades of fighting between pro-British and Irish nationalist groups.
Obama, who last week met with Israeli Prime Minister Binyamin Netanyahu to discuss Middle East peace efforts, said the progress made in Northern Ireland "speaks to the possibility of peace and people in long-standing struggles being able to reimagine their relationships."
Economics And Security
Obama has now moved on to Britain, where he'll spend two nights as Queen Elizabeth's guest at Buckingham Palace, followed by a visit to France, where on May 26-27 he'll meet with Group of Eight (G8) leaders to discuss global economic issues.
Obama is also expected to use the meeting with major economic powers -- including France, Britain, Japan, Italy, Germany, Canada, and Russia -- to press for greater support for the democratic aspirations of restive countries in the Middle East and North Africa. The meeting is also expected to touch on NATO's stalled military mission in Libya, as well as U.S. plans to begin withdrawing troops from Afghanistan this summer.
On the sidelines of the G8, Obama has bilateral meetings planned with Russian President Dmitry Medvedev, French President Nicolas Sarkozy, and Japanese Prime Minister Naoto Kan.
His final stop will be in Poland on May 27, where he'll hold talks with regional heads of state and discuss European security issues.
The U.S. leader is set to meet with Polish President Bronislaw Komorowski and Prime Minister Donald Tusk to discuss a bilateral agenda, including NATO, European security, and economic cooperation.
'Very Important Stop'
White House deputy national security adviser Ben Rhodes called the Polish part of Obama's itinerary "a very important stop" because Warsaw is a key ally in Eastern and Central Europe, where the White House's European security efforts have been focused.
Former President George W. Bush selected Poland as the site of a major ballistic-missile-defense complex, but that plan was scrapped by Obama in 2009 in favor of a mobile, sea-based defense. In October of that year, however, Vice President Joe Biden announced during a trip to Warsaw that the United States would still build a smaller, interceptor project in the country.
The White House says democracy development issues will feature prominently in talks between the U.S. and Polish leaders, both in the Arab world and in neighboring Belarus, where President Alyaksandr Lukashenka has conducted a brutal crackdown since December on pro-democracy protesters and members of the opposition. (A Polish delegation that included Lech Walesa has just returned from the Middle East and will present its findings to the three leaders.)
European press agency reports say Obama is also expected to bring up the importance of Poland's shale-gas deposits for Europe's energy security. In April, the United States estimated Poland's shale gas deposits at 5.3 billion cubic meters -- the biggest deposit of the 32 European states surveyed.
On his second evening in Poland, Obama and Komorowski will host a dinner for Central and Eastern European heads of state.
White House officials said the leaders' dinner would be similar to one Obama attended during the signing of the New START treaty in Prague in July 2009 in that he planned to "consult broadly with [his] Central and Eastern European partners" and take the opportunity to "get a lot of business done associated with European security and global issues that we cooperate with our Eastern and Central European allies on."
with contributions from Richard Solash and Heather Maher in Washington and Kristin Deasy in Prague