ST. PETERSBURG -- In June 1995, Chechen militants led by Shamil Basayev stormed a hospital in the southern Russian city of Budyonnovsk, taking more than 1,500 people hostage, including 150 children.
Their demand? An end to hostilities in Chechnya, where Moscow was nearly a year into its brutal antiseparatist war.
Russian special forces tried to storm the Budyonnovsk hospital, but were met with fierce resistance. More than 100 civilians were killed in the cross fire.
In St. Petersburg, Yuly Rybakov, then a member of the Russian State Duma and still a prominent human rights campaigner, watched the events unfold. Rybakov had traveled to Chechnya on several occasions since the start of the war in December 1994. He was a member of then-President Boris Yeltsin's human rights committee and had been dispatched to hold talks with rebel leaders.
"It was just awful for us -- what more can I say?" Rybakov's wife, Yekaterina, recalls. "We would buy the newspapers and read them from cover to cover to garner whatever information we could about what was going on down there."
Tense negotiations continued. Four days after the crisis began, the two sides reached a compromise. In exchange for the hostages, the Russian government agreed to put an end to military action in Chechnya.
Hours later, the 120 rebels left the hospital, each with a hostage shackled to his wrist.
Rybakov was one of those hostages.
I should have died. ... It's a miracle we came out of it alive.
"I should have died," he says. "I now know that there was a plan to bomb the convoy of buses, killing the rebels and all the hostages with them. But for some reason, there was a hitch."
As they reached the Chechen border, the rebels jumped off the buses and disappeared into the forest, leaving their captives to the Russian troops who had escorted them to the border.
"It's a miracle we came out of it alive," Rybakov recalls.
The war in Chechnya continued for another year. But Budyonnovsk, with the intervention of human rights advocates like Rybakov, marked a turning point. The State Duma passed a motion of no confidence in the government, and public support for the offensive deteriorated.
In August 1996, both sides signed an accord agreeing to withdraw troops. The cease-fire would last for three years.
'Born In A Prison Camp'
Throughout his life, Yuly Rybakov has flirted with danger.
"I was born in a prison camp," he says matter-of-factly, "and I went back to prison 30 years later."
He tilts back in his chair, a far-off look in his piercing dark blue eyes, and rubs the thick white beard on his chin.
His maternal grandfather, Vladimir Maksimilianovich Tazki, a Czech, was a naval officer decorated for bravery after the Russo-Japanese war in 1904. On his return from the front line in the Far East, he taught at the military academy in St. Petersburg. But in 1918, in defiance of the Bolsheviks, he led a counteruprising against their October Revolution.
Days later, he and dozens of his students were rounded up, put on barges on the Neva River, and sailed upstream to the Gulf of Finland, where they were all drowned.
Twenty-five years later, his future son-in-law, Andrei Rybakov, would also fall afoul of the authorities. A writer and poet, Rybakov was sentenced to five years of hard labor in a gulag for writing anti-Soviet literature. He was sent to Mariinsk, a small Siberian town with an adjoining gulag.
"Two things saved my father in the gulag," Yuly Rybakov says. "He joined the camp's theatrical society. And he met my mother, who was working in the camp's hospital."
Rybakov's mother had been evacuated to Mariinsk during the war with two young daughters from a previous marriage. They met on one of the wards, where Andrei Rybakov was convalescing after an illness, and fell in love. But it wasn't until after the war, in 1945, that the two were married and Yuly was born, in the gulag.
By the age of 13, Yuly and his family had settled in Leningrad, moving between a series of rented rooms in communal flats. They lived in what Rybakov describes as "abject poverty," trying to make ends meet with the meager wages his father earned organizing concert tours.
"Intellectually, it was a very rich childhood," Rybakov remembers. "There were always interesting people dropping around -- former political prisoners, artists, musicians. But there was never enough to eat."
Sentenced To The Gulag
Rybakov describes himself as a willful child, who didn't do well at school. It was only when his mother sat him down with paper and crayons and drew him a simple landscape that he found his metier. After leaving school, he went to art college, where he fell in with avant-garde artists keen to push the boundaries of what they saw as dull, official art.
They organized underground exhibitions, corresponded with foreign artists, and held illicit parties with Western diplomats. It was a dangerous game, and one they found out to their cost when one of their number, Yevgeny Rukhin, a talented painter who had run the gauntlet of the Soviet authorities for his antiestablishment art, burned to death in his studio in 1976. He was 32. The fire was widely believed to have been started by the KGB to frighten him into conformity.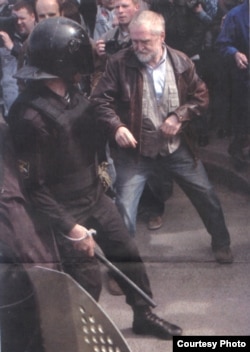 Yuly Rybakov in a scuffle with a special forces officer at the March of Dissent in St. Petersburg in April 2007.
The fire galvanized Rybakov and his friends. Furious with the authorities and deeply saddened by their friend's death, they stole out in the dead of night to write giant anticommunist slogans in prominent places all over the city.
Their daring feat culminated in an inscription on the walls of the Peter and Paul Fortress, one of Leningrad's most famous landmarks. In letters a meter-and-a-half high, they wrote, "You can crucify freedom, but man's soul will forever remain unfettered!"
Days later, Rybakov and three of his fellow conspirators -- two of them women -- were arrested. Rybakov and Oleg Volkov managed to convince the authorities the two women hadn't been involved. They were sentenced to the gulags -- Rybakov was given six years, Volkov seven. What stung was that they were tried as common criminals rather than anti-Soviet agitators, which meant they were denied the dubious honor of doing time in a camp for political prisoners.
I painted happy-looking bunnies and hedgehogs. And for that they let me out two months early.
"Of the 800 or so prisoners in the camp I was sent to -- near Murmansk, inside the Arctic Circle -- I could have a decent conversation with about three of them," Rybakov sighs. "It was a shame."
He describes the conditions in the camp as brutal. Temperatures dropped below minus 40 Celsius in the winter, there was never enough to eat or wear, and every day the bodies of his fellow inmates were carried out to be buried in mass graves.
Rybakov worked felling trees in the nearby forest. But when, near the end of his imprisonment, they discovered he was an artist, he was put to work decorating the school built by prisoners in the local town,
"I painted happy-looking bunnies and hedgehogs," he recalls. "And for that they let me out two months early."
The day he was released was the happiest of his life, and when he returned to Leningrad, he vowed to lead a simple life, steering clear of trouble.
"But something in my nature meant that wasn't to be," he says.
'A Different Life'
Rybakov served as a deputy in the State Duma from 1993 to 2003, first representing the Democratic Choice party and then the Union of Rightist Forces, both led by Yegor Gaidar. In 2003, he lost his bid for reelection as an independent candidate, and since then has devoted his attention to art, while acting as a sort of "freelance" human rights advocate.
Rybakov works out of a dilapidated office in the center of St. Petersburg -- Leningrad was given back its original name after the collapse of the Soviet Union. It's on the fourth floor of the Center of Free Culture, where Rybakov makes his living, running an alternative studio and exhibition space for today's batch of aspiring young artists.
Rybakov is closely involved with the unconventional art scene. He still paints, but more than that he is involved with organizing events, like his controversial poster competition, now in its third year.
The contest, which is sponsored by the Dutch government, calls for budding artists around the world to send in their interpretations of the theme "Danger: Corruption!" Previous subjects have included Nazism and justice. Judging by the hundreds of brown paper packages from Japan to South America to Iran piled up on the tables and floor of his office, the competition is a popular one. The winner gets $1,000 and their artwork displayed at an exhibition later in the year.
Mikhail Amosov first met Rybakov in the early 1990s, when the two were members of the Leningrad city council. Both now belong to the liberal Yabloko party.
At times, Amosov says, Rybakov can be "extremely unpleasant," without elaborating. "But because of the troubles that have come up in his life, I can understand where those characteristics might come from.
"Of course, in democratic circles, he's a highly respected man," Amosov continues. "He's always distinguished himself with his independent way of thinking."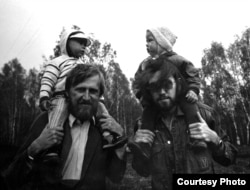 Relaxing in the Russian countryside in 1992, Rybakov (left) carries his daughter Yulia, on his shoulders, while Rybakov's son, Vladimir (right), carries his own daughter, Maria.
But Amosov says it's only recently that he's learned of Rybakov's artistic passions.
"He is part of a completely different world, a different life, where he is celebrated by other artists," Amosov says. "And for me that is another string to his bow. It impresses me greatly when a person has more to their life than just politics."
But public service remains essential. In dusty files on the shelves that line his office are thousands of letters from some of the people he has helped over the years.
"Dear Yuly Andreyevich! Thank you for sending me and my four children on a trip to the Black Sea coast," begins one letter from a single mother, struggling to make ends meet in one room of a communal flat. "Here is a picture of us all. We are so very grateful to you." Rybakov can't quite remember the details of this particular case, but says he helped get money from city authorities to pay for the trip.
There are letters from the mothers of army conscripts, whose sons were being bullied in the armed forces, and prisoners thanking him for books and newspapers.
During his long career, Rybakov says he has probably been able to offer help or advice to about 40,000 people. His mobile phone never stops ringing. Can he attend a meeting of the Soldiers' Mothers Committee this evening? Would he comment on the recent death of a conscript beaten by senior officers? Could he be interviewed by German television about the human rights situation in Russia today?
Clampdown On Freedoms
A young Chechen lawyer drops by the office to say hello. As Rybakov pours tea from a battered kettle, Gilani Musayev describes how the rights activist helped his family after they fled the war to live with relatives in St. Petersburg.
"At that time, being Chechen made you persona non grata with the authorities," he says. "You couldn't get a propiska [residency permit], you couldn't get housing, you couldn't get medical treatment. Yuly Andreyevich telephoned the head doctor at a local hospital and asked him to see my mother, who was ill. He helped us find somewhere to live. He's an amazingly generous man. He's like a father to me."
In the current political climate in Russia, human rights is a difficult area in which to work. The Putin years saw a clampdown on media freedoms, and nongovernmental and charitable organizations have been burdened with so much paperwork, they are finding it next to mpossible to do any real work.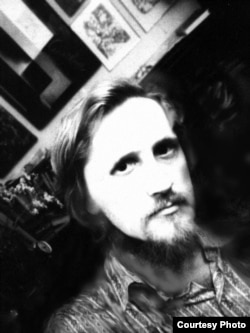 Rybakov in 1976, shortly before being sentenced to six years in the gulag for scrawling anticommunist graffiti in public spaces in St. Petersburg.
It's also a dangerous business.
Galina Starovoitova, a member of parliament and a vocal critic of human rights abuses, was shot dead near her home in St. Petersburg in 1998. Some of her supporters believe she was silenced by the authorities for her outspoken views, although no hard proof of official involvement has been produced. Starovoitova was a close friend of Rybakov's, and her death hit him hard.
Anna Politkovskaya, a veteran journalist at the "Novaya gazeta" newspaper, met a similar fate in 2006 after she published several articles and two books criticizing the war in Chechnya. Her death, like Starovoitova's, provoked widespread outrage, both at home and abroad.
Today, international rights groups like Amnesty International paint a grim picture of the situation in Russia, where political opposition has been squeezed, free media is limited to a handful of newspapers and local radio stations, and dozens of critics of the regime are in prison.
"After Starovoitova's death, we begged Yuly Andreyevich to lie low for a while, to take a break from his work," recalls Musayev. "I spoke to his wife, who was desperately concerned that he, too, might be targeted. But he wouldn't be cowed."
"It goes without saying that even though through his career he has helped thousands of people, he has made enemies along the way, without a doubt," says Rybakov's wife, Yekaterina. "A lot of people at the top don't like him. He has his critics, that's for sure.... I've been afraid for him so often."
Rybakov has never been one to be cowed, however.
One photograph on his wall shows him having words with then-President Vladimir Putin in 2002, when Rybakov was a member of parliament. He was discussing the case of Dmitry Rozhdestvensky, the director of a regional television station who was found guilty of stealing two boxes of ceramic tiles from his company to redecorate his bathroom. The 3 1/2-year sentence he received was seen as punishment for broadcasting items critical of the government.
In the photograph, Rybakov says, he was trying to convince Putin to overturn the verdict. Rozhdestvensky was seriously ill from heart disease. Putin didn't, and Rozhdestvensky died a few months later.
Another photograph, this one from 2007, shows dozens of Interior Ministry troops wielding shields and batons as they chase an unarmed Rybakov down the road. His crime? He had been taking part in an opposition protest. The troops eventually abandoned their pursuit to deal with more serious incidents elsewhere.
Fatalistic, But Still Hopeful
Today, Rybakov says, he can offer far less help to the people who approach him than he could in the past. True, at 62, he has a little less energy than before, but these days there are so many more restrictions than, say, 10 years ago, and people like the doctor who helped Musayev's mother are far more wary of bending the rules.
"Today, there's no area of life in which the FSB [Federal Security Service] or the courts system can't interfere," he says. "And the situation is getting worse, because these people know that they can act with impunity. There's no political competition. There's no one to bring the authorities to task. There's no freedom of speech. There's censorship. There's pressure on NGOs who get funding from abroad. All this prevents society from being able to defend itself."
So what does he see as the future for human rights in Russia? The country has a new president, but by his own admission, Dmitry Medvedev is unlikely to veer from the course Vladimir Putin has set out.
Rybakov shrugs. He is fatalistic, but he hasn't entirely lost hope.
"I think the current generation of young people, those who didn't grow up in the Soviet Union, in slavery, will soon come to realize that they aren't being given a fair deal," he says. "Soon they will wake up to this and demand better. And that is when things will start to change here."
Rybakov with his wife, Yekaterina, who had to watch from afar as her husband agreed to stand in as a hostage in exchange for mothers with newborn babies during the Budyonnovsk crisis in 1995. "It was just awful for us," she recalls.
About "On The Front Lines"
"On The Front Lines" features in-depth profiles of men and women in RFE/RL's broadcast area who have dedicated their lives to the causes of freedom, democratic values, and human rights.
More
What Do I Believe? -- Yuly Rybakov
What Do I Believe?
We asked Russian human rights activist Yuly Rybakov to talk about the core beliefs that guide him in his life and work. Play
Side Lines: Yuly Rybakov
Favorite authors?
Ivan Bunin, Alexander Pushkin, Ernest Hemingway, Romain Rolland.
Which living person do you most admire? Economist and politician Yegor Gaidar; Sergei Kovalyov, politician and human rights activist, former Soviet dissident and political prisoner.

Who has had the biggest influence on your life? Jesus Christ.

Which living person do you most despise? None (but of the dead, without a doubt, Josef Stalin).

Where do you see yourself in 10 years? In a rocking chair in front of a fire, a dog on my lap, and a glass of mulled wine in my hand.

What is your worst vice or extravagance? Laziness.

What is your idea of perfect happiness? Standing on a sailing boat, with the wind at my back, in glorious sunshine.

What would people be surprised to know about you? That I didn't make a profit out of my political career and that I didn't try to use my political career to my own advantage.

What is your greatest fear? Being afraid.

What do you wish you were better at? Painting.

What has been your greatest achievement or accomplishment? That I am a free man.
Making Contact -- Yuly Rybakov
Want to get in touch with Yuly Rybakov? Here's how:
Address:
Art Center "Svobodnaya Kultura," Pushkinskaya Ulitsa dom 10, St. Petersburg, Russia
E-mail:
tazki@mail.wplus.net
Website:
www.rybakov.spb.ru
Telephone:
+7 812 712 2747