OSCE Says Ukraine At 'Crossroads' Of War And Peace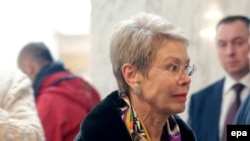 An OSCE official has warned against "further escalation of the conflict" in eastern Ukraine despite encouraging signs of a cease-fire taking hold between government troops and pro-Russian separatists.
Organization for Security and Cooperation in Europe (OSCE) special representative Heidi Tagliavini told the UN Security Council on February 27 that "we seem to be at the crossroads" of war and peace in Ukraine.
The 15-member council was holding its first meeting since it endorsed a cease-fire agreement that was reached in Minsk on February 12 aimed at ending a conflict that has killed at least 5,600 people since April.
Tagliavini said fighting was subsiding, prisoners had been released, and the withdrawal of heavy weapons from the front line had begun.
But she added that the situation remained volatile.
"Unless the guns fall silent, there will be no hope for stabilizing the situation, let alone for peace," Tagliavini told the council in New York by video link. "We know that we are far away from this goal."
Ertugrul Apakan, head of the OSCE Special Monitoring Mission to Ukraine, said some heavy weapons have been withdrawn from the frontline and combat operations have been significantly reduced across the conflict zone in recent days.
But he reported some firing around the Donetsk airport and the southeastern port city of Mariupol.
The OSCE has deployed 450 monitors in Ukraine.
Apakan asked the UN to help bolster his mission's capacity to monitor the truce by providing more access to satellite imagery, drones, and image-gathering technology.
A Ukrainian military spokesman said earlier on February 27 that three soldiers had been killed and seven others wounded in the past 24 hours, following two days of no fatalities.
Andriy Lysenko also said a convoy of Grad-rocket systems and other equipment had been tracked leaving rebel-held Donetsk in the direction of Mariupol.
Poroshenko declared the killing of the three government troops a "serious breach of the ceasefire", during a telephone call Friday with German Chancellor Angela Merkel.
"The firing by separatists on Ukrainian troops who were withdrawing constitutes a serious breach of the ceasefire," he was quoted as saying.
Earlier, Petro Poroshenko said that "even in the case of a long truce which might transform into a political solution and a stable peace, the military threat in the east would unfortunately remain."
Speaking during a visit to the Kyiv National Defense University, Poroshenko said this would require Ukraine to constantly strengthen its defensive capabilities.
The warning was seen as a reference to Russia, which Kyiv and the West accuse of helping the separatists with weapons and soldiers -- a claim denied by Moscow.
Poroshenko also said the separatists were still violating the Minsk agreement, warning that the Ukrainian military was "ready any time" to bring back heavy weapons to the front line if the deal failed.
Ukraine announced on February 26 it had begun the pullout of weapons with a caliber of 100 millimeters or more from the front line, but only after none of its soldiers were killed for two days.
The rebels in the self-proclaimed "people's republics" of Donetsk and Luhansk say they have pulled out hundreds of pieces of artillery and other weapons over the past days.
Under terms agreed in Minsk, Ukrainian government forces and the separatists must pull out their heavy weapons to create a buffer zone of at least 50 kilometers.
Based on reporting by AFP and AP