The OSCE's first summit in more than a decade wraps up today in Kazakhstan, with Russian President Dmitry Medvedev saying that something should be done to prevent the organization from losing its "potential."
Government leaders from 68 countries have gathered in Astana to seek ways of restructuring the way the organization reacts to security crises.
Senior officials from 56 member countries of the Organization for Security and Cooperation in Europe (OSCE), along with 12 partner states, have been meeting in the Kazakh capital to discuss issues ranging from the war in Afghanistan, ethnic violence in Kyrgyzstan, nuclear nonproliferation, and regional conflicts like the dispute between Armenia and Azerbaijan over Nagorno-Karabakh.
It is the first time OSCE leaders have gathered since a meeting in Istanbul in 1999 -- a gap that has raised questions about the group's capacities in the 21st century.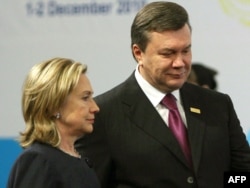 U.S. Secretary of State Hillary Clinton (left) and Ukrainian President Viktor Yanukovych in Astana
OSCE Secretary-General Marc Perrin de Brichambaut admitted today that some OSCE principles have "been neglected" in recent years and that a "lack of confidence between member states" had limited its ability to respond to crises. He told leaders in Astana that the OSCE "can only be as effective as you choose to make it."
Medvedev and U.S. Secretary of State Hillary Clinton both acknowledged that the OSCE needs to play a more dynamic role in preventing wars and resolving conflicts.
Clinton said recent conflicts in the Caucasus and Central Asia show that the OSCE needs to have its monitoring powers enhanced to deal with crises that involve member states.
"We believe the organization needs to be empowered to respond more effectively to crises within the OSCE itself," she said. "It is encouraging that Russia also recognizes the need to improve on our existing capacity, and we are working to find a framework that will allow for timely, impartial OSCE reporting during emergencies like those we have seen in Georgia and Kyrgyzstan."
But in a thinly veiled reference to Russia, Clinton chided the Kremlin's efforts to obstruct the placement of an OSCE mission in Georgia -- whose own territorial integrity has been undermined by Moscow's diplomatic and financial support for the breakaway regions of Abkhazia and South Ossetia.
Clinton told the gathering it is "regrettable that a participating state has proposed to host a mission and the OSCE has not been allowed to respond."

WATCH: In his exclusive RFE/RL interview, UN head Ban Ki-moon talks about Kazakhstan's OSCE performance:
Such disputes between member states have raised doubts about whether an agreement can be reached during the Astana summit on a strong action plan for the OSCE's future.
Meanwhile, top officials from the OSCE countries trying to mediate the long-running dispute between Armenia and Azerbaijan have urged renewed energy to achieve a resolution.
Clinton and Medvedev, together with French Prime Minister Francois Fillon, met with Azerbaijan's President Ilham Aliyev and Armenian President Serzh Sarkisian.
A joint statement after the talks said the leaders agreed "the time has come for more decisive efforts to resolve the Nagorno-Karabakh conflict." Their statement also says they agreed that a peaceful, negotiated settlement will bring stability and security and is the only way to bring "real reconciliation."
Clinton also called on members of the security organization to push for a greater OSCE engagement in Afghanistan.
"The OSCE itself should play a greater role [in Afghanistan]. OSCE participating states have [1,900 kilometers] of borders with Afghanistan, and we should expect OSCE efforts to improve border security, counter illicit trafficking, boost legitimate trade, and promote economic development," Clinton said.
Although Afghanistan is not part of the OSCE, more than 40 OSCE members have been involved in military operations or civilian reconstruction efforts there since the collapse of the Taliban regime in late 2001.
In fact, Afghanistan's importance to regional security has been listed as a top agenda item at the Astana summit -- prompting host Kazakhstan to send an invitation to Afghanistan's President Hamid Karzai, who welcomed Clinton's call for greater OSCE engagement.
"Afghanistan shares common borders with three OSCE member countries," Karzai said. "While our region is exposed to international terrorist and criminal networks, we believe that in addition to the bilateral cooperation between Afghanistan and the three OSCE member states in our neighborhood, we need to bolster our regional cooperation in order to reach the OSCE objectives."
"Bolster regional cooperation": Afghan President Hamid Karzai in Astana
Another troubled state that neighbors Kazakhstan and is high on the OSCE summit agenda is Kyrgyzstan, where the ouster of former President Kurmanbek Bakiev in April was accompanied by political violence and followed months later by deadly ethnic clashes.
Roza Otunbaeva, who was sworn in Kyrgyzstan's president in July after acting as interim leader following Bakiev's ouster, told the gathering today that Bishkek will do everything possible to establish interethnic dialogue, to push forward national reconciliation, and to strengthen the rule of law and democratic institutions.
"The Kyrgyz government understands well that many sensitive issues, especially in the area of human rights and ethnic relations, still exist and contain considerable destructive potential," she said.
Otunbaeva said authorities in Kyrgyzstan are convinced that the security of OSCE territory -- including countries in Central Asia -- must be "joint, united, and indivisible."
Meanwhile,
Belarus announced
today that it would eliminate its stocks of highly enriched uranium by 2012. Belarus Foreign Minister Syarhey Martynau made the pledge after talks with Clinton on the sidelines of the OSCE summit.
In a joint statement, Clinton said the United States intends to provide technical and financial assistance to support the effort as quickly as possible.
In its highly enriched form, uranium can be used to build nuclear weapons. There have been fears about the security of highly enriched uranium stockpiles in former Soviet republics like Belarus.
Clinton praised the decision as a "sign of progress in efforts to advance nuclear security and nonproliferation" of nuclear weapons. She also said Belarus would be invited to a 2012 nuclear security summit in South Korea.
On Iran, Clinton said she welcomed Tehran's decision to join talks in Geneva with EU foreign-policy chief Catherine Ashton on December 6-7, but stressed that the talks should focus "on the matters that are of concern to the international community: first and foremost: Iran's nuclear program."
Iran denies allegations that it is trying to secretly develop nuclear weapons and has said it would not discuss its nuclear program in Geneva.
Kazakhstan's 2010 chairmanship of the OSCE has been criticized by some activists who say the country's poor human rights record made it a poor choice.
The New York-based nongovernmental organization Human Rights Watch has described Kazakhstan's rights record as "stagnant," noting that Astana's promises to improve media freedoms during its OSCE chairmanship this year remain unfulfilled.
written by Ron Synovitz, with agency reports