There will be no New Year's fireworks in Osh this year. They have been banned in the southern Kyrgyz city, along with parties in restaurants, bars, and all other public places over the winter holiday season.
Authorities say the steps are necessary to address growing security concerns. But residents of the city, which was the scene of bloody clashes between ethnic Kyrgyz and ethnic Uzbeks six months ago, say the measures simply make them nervous.
"Officials are now banning mass gatherings and public celebrations of New Year's, which is frightening," says Venera, an Osh resident, who declined to give her full name. "It makes people ask why they are banning public celebrations. There must be real threat."
Kyrgyz authorities have made clear that they believe the threat is, indeed, real.
Mayor's Warnings
The discoveries of at least two weapons caches in and around Osh were announced recently. Security sweeps, including raids on homes and mosques, are frequently conducted. And officials in both the capital, Bishkek, and Osh have accused extremists with foreign ties of trying to destabilize the situation.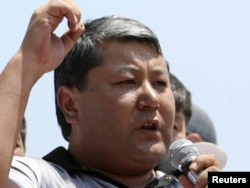 Osh Mayor Melis Myrzakmatov
Osh Mayor Melis Myrzakmatov has repeatedly warned that he doesn't rule out the possibility of terror attacks, especially over the New Year's holidays.
"Different rumors about possible attacks over the New Year's holidays, and also blasts in Bishkek and Osh, were the main reasons [for the new security measures]," Myrzakmatov told RFE/RL's Kyrgyz Service.
City authorities maintain they are in control of the situation. Discussing the unpopular security sweeps, Myrzakmatov called on residents not to panic.
"There is nothing like interethnic hatred here," Myrzakmatov said. "The most important task is now how to educate people not to panic, to remain calm, and not to listen to provocations. These kinds of security operations have been going on [in Osh] for some time and will continue for the foreseeable future."
On the surface, everything appears to be calm in the city, according to Ernist Nurmatov, a correspondent for RFE/RL's Kyrgyz Service in Osh. "You can see people going about their everyday routines, going to work, to school," he says.
Nurmatov describes an Osh almost as it was before violence unexpectedly broke out in the city in early June. Still, he says, "You feel something is missing. People from different ethnic backgrounds are cautious. There is still no trust between them. And there are all kinds of rumors in the city that disturb residents."
President's Assessments
Kyrgyz President Roza Otunbaeva has acknowledged that immense challenges remain.
She has expressed hope that the country's newly formed coalition government, which began work on December 20, will find ways "to unite the people."
Kyrgyz President Roza Otunbaeva
During a ceremony in Bishkek for the formation of a new State National Security Committee, she said one the committee's priorities would be to preserve the "fragile interethnic peace," adding that "an analysis of the situation in the south shows that instability, which at times deteriorates, remains."
Numerous examples support the president's assessment.
Local residents and international rights groups claim that police raids and arrests in Osh and neighboring Jalal-Abad Province disproportionately target ethnic Uzbeks. Amnesty International has expressed concern that the "overwhelming majority" of those brought to trial for their involvement in the June events have been ethnic Uzbeks.
Kyrgyz officials insist they don't disclose the ethnicity of those arrested or put on trial.
"Everybody is equal in the eyes of the law," says Kyrgyz Security Council Secretary Marat Imankulov. "It doesn't matter if they're Kyrgyz, Uzbek, or Russian, or any other ethnic group."
The country's ombudsman, Tursunbek Akun, has been blunt in his recent remarks about the June unrest. In a report released this month on the causes of the violence, he placed the blame on several Uzbek community leaders. One of them -- ex-lawmaker Kodirjon Batyrov -- denies he had any role in inciting disturbances.
Five imams from Osh mosques were dismissed this month by city authorities "for propagating nontraditional Islam," among other accusations. Another imam was reportedly arrested on charges of recruiting and sending young people to terrorist camps.
Authorities did not mention the ethnicity of the imams. They did, however, say the latter worked at a mosque in On Adyr, an Uzbek quarter of Osh.
Rape Allegations
Recent reports about the alleged kidnapping and rape of ethnic Uzbek women have added to mistrust among ethnic groups in Osh. Local media report that several ethnic Uzbek women aged between 16 and 18 were kidnapped from their homes. The women were reportedly raped and then dropped off on the streets half-naked with shaven heads.
Police officials in Osh confirm they were informed by family members about the disappearance of four women but dispute reports of kidnapping and rape. Police say at least one of the alleged victims had left home of her own will and that she had made up the kidnapping story. Another victim has since retracted her complaint.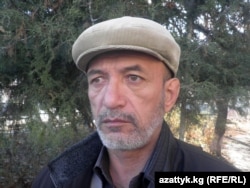 Rights activist Ravshan Gapirov
Aziza Abdyrasulova, a Kyrgyz human rights advocate, says she has documented four such cases and informed the authorities. Ravshan Gapirov, a local rights activist, suggests the women may have withdrawn their statements under pressure by the authorities and described the kidnappings as a provocation by "groups with certain goals."
Combined, the allegations of kidnapping, the security sweeps, and warnings by the mayor about potential terrorist attacks have left both the Kyrgyz and Uzbek communities anxious.
Aktilek Toktobekov, a university student, says the climate of fear has resulted in low attendance at Osh schools and colleges. He says many students are simply too afraid to leave their homes.
Kazypa Bektemirova, an ethnic-Kyrgyz housewife in Osh, says simply, "We want peace. We are worried about our children's security."
RFE/RL's Kyrgyz Service contributed to this report