Sheikh Janzada has reason to celebrate. Political and judicial reforms have finally come to his mountainous village in Bajauar Agency, part of Pakistan's Federally Administered Tribal Areas (FATA), realizing a lifelong dream.
On August 12, the Pakistani government announced that political parties would be allowed to freely campaign in FATA, located along the country's western border with Afghanistan. Also slated for revision are draconian Frontier Crimes Regulations (FCR), which will undergo modest improvements to allow for more accountability and some conformity with modern human rights standards.
The changes are of personal significance to the 46-year-old Janzada, who as district head of the secular Awami National Party was violating the FCR law by campaigning for political reforms and development.
Such actions put Janzada, and others like him, under constant pressure from local government officials even as they failed to check the rise of Taliban extremists. In FATA, political campaigning was a sure way to earn a prison sentence -- and not just for the accused.
In a lingering legacy of how the British Raj controlled Pashtun border tribes, Pakistani officials were able to invoke FCR clauses that allowed them to arrest not only the individual, but all members of their tribe, as well as confiscate their businesses. These powers were wielded with little remorse and no checks, making the region a judicial black hole.
This, in turn, created a political vacuum that benefited the extremists who thrived in the region. Despite numerous large-scale operations since 2004, they still wield considerable control in parts of the seven districts or agencies comprising FATA.
'Law Of The Jungle'
Janzada and other political activists have long clamored for change. Reforms, they argued, could help break the region's isolation and help expose the suffering and helplessness of the region's nearly 7 million residents.
Now that reforms have come, he welcomes them. But he vows to not give up until his people are granted all the rights and freedoms accorded under Pakistan's Constitution.
"I can tell you credibly and with confidence that the FCR is a draconian law dating back to the British colonial era," Janzada says. "It resembles the law of the jungle. Our struggle will continue until its complete repeal."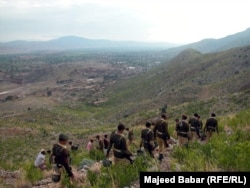 Despite a heavy presence by the Pakistani military (above), militants still wield considerable control in many of the districts and agencies comprising FATA.
The Pakistani government is spending lavishly to promote the reforms as a major step forward. Pakistani TV broadcasts are flush with government-sponsored advertisements highlighting the benefits of the two executive orders President Asif Ali Zardari signed on August 12.
The Urdu-language ads congratulate Zardari for curtailing the powers of tribal area administrators, who will now be subject to legal and financial scrutiny. The FCR clauses allowing collective punishments have been diluted. Children younger than 16 and women older than 65 can no longer be imprisoned. FATA residents can now challenge official decisions in a government-appointed tribunal made up of senior bureaucrats.
The situation on the ground remains far from rosy, however.
Embroiled In Insurgency
More than 1 million FATA residents remain displaced by conflict. Tens of thousands of Pakistani soldiers continue to battle scores of militants. Thousands have died in the course of a seven-year insurgency in the region, with traditional tribal leaders either assassinated or chased from their home areas. FATA's status as Pakistan's backwater persists, with health, education, and other human development indicators among the lowest in Asia. And its strategic location and role as an extremist sanctuary promise to keep it embroiled in insurgency.
Islamabad understands this. Prior to the new judicial and political reforms, Zardari signed into law a new regulation granting sweeping powers to the military in FATA and in some districts of neighboring Khyber Pakhtunkhwa Province.
The regulation, "Aid in Action of Civil Powers," critics argue, is unconstitutional because it allows security forces to detain suspected militants for prolonged periods and empowers military and civilian officials to hand down severe punishments.
FATA residents complain often of the military's heavy-handedness. Although the new regulation is only slated to last for two years, it undercuts the new modifications to the FCR and creates fear and uncertainty.
Aid worker Naveed Ahmad Shinvari, who heads an Islamabad-based NGO advocating reforms and development in FATA called the Community Appraisal and Motivation Program (CAMP), says there is much work to be done.
CAMP's surveys in recent years show that most FATA residents either want a complete repeal of the FCR or favor a comprehensive overhaul of the archaic law.
"The reforms are too late," Shinvari says. "These are the first changes to the FCR since it was first introduced in 1901. I look at it as being too little, but I welcome it as a first step. These are very few reforms. We have a lot of work and a very long way ahead of us."
But there is much room for optimism, as well. Businessman-turned-politician Munir Khan Orakzai leads a group of FATA lawmakers in Pakistan's parliament. He says that allowing political parties to campaign in remote tribal valleys will attract people to the mainstream and push youth away from guns and violence.
"Now every future government will be bringing new amendments into the [FCR]. Even the current government will bring new reforms," Orakzai says. "In six to 10 years, the FCR will be replaced by good reforms and amendments. Inshallah (God willing)."