QUETTA, Pakistan -- A deadly attack in southwest Pakistan has added to the heavy toll suffered by a small Shi'ite minority amid a broad sectarian conflict.
The
October 4 attack
, carried out against a bus carrying mostly Hazaras on the outskirts of Quetta, claimed the lives of 12 people. There was no immediate claim of responsibility, but similar attacks against the community have previously been claimed by Sunnis affiliated with Al-Qaeda and the Taliban.
Thousands have died in the ongoing conflict between rival hard-line Shi'a and Sunni sects in Pakistan, but the Hazaras have particularly suffered. The minority has been left reeling from a sharp increase in attacks in recent years, prompting some members to call on the government to provide more land to accommodate fresh graves.
Obtaining justice in the Sunni-majority state has proved elusive for some Hazaras like Rukhsana Ahmed Ali, a prominent political activist and social worker whose husband, Ahmed Ali Najafi, was killed at his workplace two years ago.
She says two eyewitnesses, young students of a religious seminary, said they heard the killers order her husband out of his car and asking them how he had wronged them.
"The killers then told him, 'You have not done anything wrong, but we have been told that killing one Shi'a will open five doors of heaven for us,'" Ahmed Ali says. "He was then forced out of his car and killed by a whole burst of Kalashnikov fire."
'Are We Humans Or Insects?'
Najafi's September 2009 killing marked the beginning of bloodshed against Hazaras centered in Balochistan Province that has continued to this day. Hazara leaders claim that nearly 600 members of their community have been killed since 1999.
Lashkar-e Jhangvi, a banned extremist Sunni organization now seen as allied with Al-Qaeda, has claimed responsibility for most of the attacks.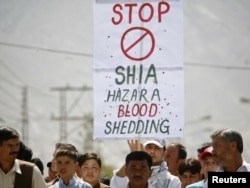 Members of the Shi'ite Hazara community march through the streets of Quetta on September 25 to protest recent violence.
Middle-aged coal-mine owner Sayed Nasir Ali Shah represents Quetta's Hazara's in the Pakistani parliament. He was elected on the ticket of the governing Pakistan People's Party in 2008, but has since turned into one of its most outspoken critics. These days, his only mission is to try to save Hazara lives by calling for government protection.
Shah was undeterred even when he was targeted in a suicide attack last year, which left one of his young sons paralyzed. He says that protests and petitions with senior leaders have so far fallen on deaf ears.
"The government is only watching, and I am now tired after constantly shouting to grab their attention," Shah says. "I have been pleading to them to [do something to protect us] for God's sake. Are we humans or insects? We have no confrontation with our [neighboring] Balochi and Pashtun communities. We are targeted because our tormentors believe that we are infidels."
Losing Battle
A century ago, Shah's Hazara ancestors fled the poverty and oppression of their Afghan homeland to the safety offered by Quetta, a British garrison town. Compared to their Afghan cousins, the Hazaras in Quetta prospered in British India and later on in Pakistan. But the tiny minority turned into a target for radical Sunnis.
You Might Also Like

Pakistan Says U.S. Pressure Must End

Why Are Pakistan's Militant Groups Splintering?
Quetta once led the rest of Pakistan as an example of interfaith harmony. But Sunni extremism gradually gained traction in Balochistan's secular political culture and changed the landscape of its capital. This transformation was aided by Pakistan's alliance with radical Islamists who have fought its proxy wars in neighboring Afghanistan since the 1980s.
Abdul Khaliq Hazara, chairman of the Hazara Democratic Party, says the government has abdicated its responsibility of protecting his community. The small political party he leads hopes to provide protection to Quetta's 400,000 Hazaras by relentlessly advocating their rights.
He now sees no light at the end of the tunnel, and laments that many youths in the community are opting to seek asylum abroad.
"Nobody is listening to us -- the parliament, Islamabad, the government in Balochistan, and our powerful [security] institutions," Khaliz Hazara says. "We feel that it's the government's policy to promote sectarian terrorism here. So that people keep on fighting each other because of sectarian tensions."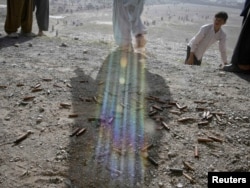 Men stand near bullet casings left by gunmen who opened fire on a crowd of ethnic Hazara Shi'a taking part in morning exercises in a field near Quetta in May.
Balochistan, Pakistan's largest and least populated province, is the scene of complex regional rivalries and home to many insurgent movements. The province has been destabilized by a separatist ethnic Balochi insurgency since 2004 that Islamabad is trying to crush militarily.
Insurgents' Foothold?
Afghan and Western officials, however, are more concerned about the presence of Afghan insurgents in Balochistan. They blame Pakistan for sheltering the leadership of Afghan Taliban movement in Quetta.
Police officials claim that the security environment in Balochistan is stretching their small force. Hamid Shakeel, a senior police officer in Quetta, says they always urge Hazaras traveling from Quetta to request police protection before embarking outside the provincial capital, often en route to Iran.
But there is only so much they can do, Shakeel says. "We only have 1,100 police officers for Quetta and their responsibility is not only to prevent target assassinations but they have to provide protection to senior officials," he says.
The situation prompted the Hazaras of Quetta to call for international protests this month. The Hazara Democratic Party is counting on Hazara diaspora communities to demonstrate in major cities across Europe, Australia, and North America throughout October. A protest in Vienna on October 1 attracted hundreds of supporters, and the October 4 bloodshed prompted hundreds more to condemn the killings during a rally in London.
Back in Quetta, fear and uncertainty remain high. Muhammad Ismail, a Harzara trader, says that living a normal life in his once peaceful hometown is now impossible.
"When we leave our houses [in the morning] we are not sure about returning in the evening," Ismail says. "When our children go out into the bazaar, we are worried about something happening to them. These are the kind of problems we live with."