A video
has appeared
on the Internet that shows several Iranian hard-liners verbally attacking Faezeh Hashemi, the daughter of former president and current head of the Assembly of Experts, Akbar Hashemi Rafsanjani.
The hard-liners, who according to some reports were "plainclothes agents," insulted Faezeh Hashemi and called her a "whore." They chanted "Death to Rafsanjani" and threatened Faezeh Hashemi with violence.
The incident reportedly
took place last week
when Hashemi and her relatives were returning from a funeral ceremony.
Faezeh Hashemi has been harassed by hard-liners before (see
video
).
Iranian state media reported that she was briefly detained on February 20 during an opposition rally while "making blunt statements and chanting provocative slogans."
Iran's official IRNA news agency
posted some pictures
of her after she was detained.
Faezeh Hashemi has come under pressure over her support for the opposition Green Movement and mainly because of her father.
Under Increasing Pressure
Hard-liners have accused Rafsanjani of backing opposition leader Mir Hossein Musavi during Iran's 2009 presidential election and being behind the postelection protests. Rafsanjani has also come under attack for condemning the postelection crackdown and calling for the release of those detained during and after the demonstrations.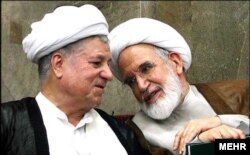 Rafsanjani (left) has come under pressure for backing Karrubi (right) and Musavi.
In recent days Rafsanjani has reportedly been trying to distance himself from the opposition movement. He was
quoted last week
as saying that opposition protests are "haram," or forbidden under Islam.
He made the comments ahead of the elections for the board of the Assembly of Experts. Some hard-line officials have suggested that Rafsanjani should be replaced in the Assembly elections that are due to take place during its March 8-9 session.
Rafsanjani was
quoted as saying
on February 26 that he would not surrender to extremists. He said he would run in the elections to the Assembly of Experts regardless of the results.
In a rare move, state television recently showed a state-organized rally during which protesters chanted "Death to Rafsanjani."
-- Golnaz Esfandiari