Afghanistan topped the news this week and so we take a closer look at the big issues the country is facing.
RFE/RL Associate Director of Broadcasting Akbar Ayazi, who used to run Radio Free Afghanistan, gives his perspectives on the assassination of Ahmad Wali Karzai. The powerful half-brother of Afghan President Hamid Karzai ran Kandahar's provincial council and was shot to death by a trusted guard on July 12.
Ayazi talks about what Karzai's death will mean for the peace process and whether his successor can adequately fill his shoes.
We also have an exclusive interview with Karl Eikenberry, the outgoing U.S. ambassador in Kabul. The former general, who once commanded coalition forces in Afghanistan, talks with RFE/RL Kabul Bureau Chief Rahimullah Samandar about disagreements with President Karzai, Iranian support for the Taliban, and many other subjects.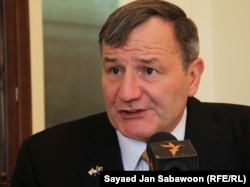 Eikenberry speaks to RFE/RL.
In our regular "Uncovered" segment,
Pete Baumgartner
, one of the editors behind our
"From Our Bureaus"
wire, gives the details on stories from our broadcast region that are not getting big coverage in other media. This week, he focuses on Uzbek journalists on a hunger strike over censorship, the shutting down of all Wordpress blogs in Kazakhstan, and the disappearance of an Iranian actress and blogger.
And finally, correspondents Farangis Najibullah and Sadriddin Ashur bring us the story of a top Uzbek comedian who is having trouble getting laughs in his home country. The government there apparently doesn't like his sense of humor and has essentially blacklisted him.
This week's host is
Bruce Jacobs
.
Got a question or comment about "The Blender"? Send your feedback to
podcast@rferl.org
, or leave a comment below. We'd love to hear from you.
Listen to or download Episode 27 of "The Blender" below or
subscribe to "The Blender on iTunes
. For the complete "Blender" archive,
click here
.
RFE/RL's The Blender -- 7/15/11 (Episode 27)