WATCH: The trailer for "5 Days of War," directed by Renny Harlin
In Episode No. 34 of "The Blender," we sit down with Georgian Service broadcaster
Salome Asatiani
to talk about director Renny Harlin's latest movie, "5 Days of War." The film, which stars Andy Garcia as Georgian President Mikheil Saakashvili, attempts to tell the story of the largely forgotten war (at least in the West) between Russian and Georgia in August 2008 through the eyes of a crusading American journalist, played by Rupert Friend.
Salome Asatiani
The film's not getting very good reviews. It's being seen as a blatant piece of Georgian propaganda. (One reviewer called it a "popcorn movie for people itching to hate Russians again.")
We ask Salome for her take on the movie (to say she didn't like it is to belabor understatment) and listen to a few clips from the film (Andy Garcia's accent is a hoot).
Writer at large
Jamie Kirchick
visits our studios to discuss his recent reporting trip to Tunisia and Libya. Jamie gives his impressions of the political landscape in the country and where things may be headed.
In our monthly "Ear to the Ground" segment, host Lucian Stefanescu introduces us to the psychedelic sounds of Iranian musician Kourosh Yaghmaei, a pre-Revolution phenomenon in his native Iran who endured a recording ban for 22 out of the last 32 years.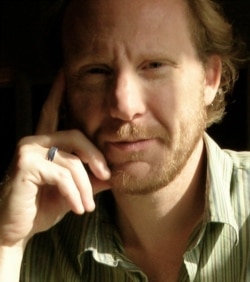 Grant Podelco
And correspondent
Daisy Sindelar
tells us about 11-year-old Adnan Nevic, singled out by the UN as the world's 6th billionth person when he was born in 1999 in Bosnia. Celebrated then, Adnan has largely been forgotten today.
This week's host is
Grant Podelco
.
Got a question or comment about "The Blender"? Send your feedback to
podcast@rferl.org
or leave a comment below. We'd love to hear from you.
Music used on this week's show includes "Georgia on My Mind" by Ray Charles; "Zasto Nie Da Se Ne Druzime" by Rade Serbedzija; and
"Assessment" by the Beta Band
.
Listen to or download Episode 34 of "The Blender" below or
subscribe to "The Blender on iTunes
. For the complete "Blender" archive,
click here
.
"5 Days Of War" Is Hell (Episode 34) -- RFE/RL's The Blender