Podcast: Digital-Activism Extravaganza With Hillary Clinton's Innovation Adviser -- Plus Geeks Trying To Build A Better World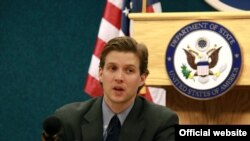 In Episode 28 of "The Blender," RFE/RL's Washington correspondent Golnaz Esfandiari speaks with Alec Ross, U.S. Secretary of State Hillary Clinton's senior adviser for innovation, about Internet freedom and the State Department's efforts to reach out to civil societies across the world using social media, such as Facebook and Twitter.
Episode 28 features the song "Belarus Freedom" by the Belarusian band Lyapis Trubetskoy.
This week's host is Pavel Butorin.
Got a question or comment about "The Blender"? Send your feedback to podcast@rferl.org, or leave a comment below. We'd love to hear from you.