In Episode 28 of "The Blender," RFE/RL's Washington correspondent Golnaz Esfandiari speaks with Alec Ross, U.S. Secretary of State Hillary Clinton's senior adviser for innovation, about Internet freedom and the State Department's efforts to reach out to civil societies across the world using social media, such as Facebook and Twitter.
Staying on the subject, RFE/RL's new media analyst Camilla Hawthorne tells "The Blender" about her participation in TechCamp events in Lithuania and Moldova -- training seminars in a series supporting Secretary Clinton's
Civil Society 2.0 initiative
to build the digital literacy of civil society organizations around the world. Camilla discusses technological opportunities but also the challenges facing online activists across the world.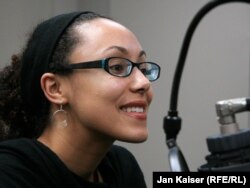 Camilla Hawthorne
And we speak with Alexis Zimberg and Nicholas van Beek who have been traveling the former Soviet Union to study how graffiti is used as a form of protest when other outlets of expression are limited. They explain the dissenting opinions they saw on the walls of the Belarusian capital Minsk, where the government has been battling opposition protests. They have been documenting their journey on their
website.
Alexis and Nicholas also narrated a
slideshow
of some of the street art they have photographed in Belarus.
Episode 28 features the song "Belarus Freedom" by the Belarusian band Lyapis Trubetskoy.
This week's host is Pavel Butorin.
Got a question or comment about "The Blender"? Send your feedback to podcast@rferl.org, or leave a comment below. We'd love to hear from you.