In Episode 19, we travel to Pakistan to investigate first-hand some of the allegations being made against "Three Cups Of Tea" author Greg Mortenson. How many schools built by Mortenson's Central Asia Institute actually exist and who's attending classes in them? Our correspondent visited Pakistan's remote Ishkoman Valley -- a 24-hour journey by car -- to see for himself. The results may surprise you.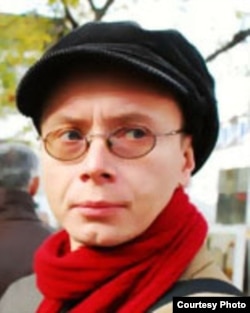 Pavel Butorin
In our regular "Meet The Bloggers" segment, web editor
Grant Podelco
speaks with
Liz Fuller
, whose "Caucasus Report" blog offers in-depth analysis of this unruly region. It also aims to act as a "smoke detector," focusing attention on potential conflict situations and crises throughout the region.
Mustafa Sarwar
, a broadcaster with RFE/RL's Radio Free Afghanistan, talks about the first, large-scale Facebook movement among Afghan university students calling for reform. Which raises the question: Will the wave of antigovernment dissent in the Middle East reach Afghanistan?
And in our regular "Uncovered" segment,
Pete Baumgartner
and
Merhat Sharipzhan
, the editors of RFE/RL's
"From Our Bureaus" wire
, talk about some of the significant stories breaking in RFE/RL's broadcast region that aren't getting the attention they deserve in the Western press.
This week's host is
Pavel Butorin
.
In this week's show, we're featuring the music of Pakistani singer Atif Aslam.
Listen to or download the episode below,
subscribe to "The Blender" on iTunes
, or
subscribe to an RSS feed
. For "The Blender" blog archive,
click here
.
RFE/RL's The Blender -- 5/20/11 (Episode 19).