Briefing: Endgame Diplomacy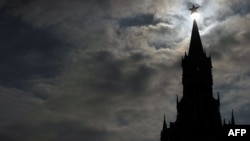 The Power Vertical Briefing is a short look ahead to the stories expected to make news in Russia in the coming week. It is hosted by Brian Whitmore, author of the Power Vertical blog, and appears every Monday.
This week's Briefing looks at the upcoming diplomacy surrounding the Ukraine crisis and the fallout from the assassination of separatist commander Aleksei Mozgovoi. Joining me is RFE/RL Senior Editor Steve Gutterman.
Enjoy...
About This Blog
The Power Vertical is a blog written especially for Russia wonks and obsessive Kremlin watchers by Brian Whitmore. It offers Brian's personal take on emerging and developing trends in Russian politics, shining a spotlight on the high-stakes power struggles, machinations, and clashing interests that shape Kremlin policy today. Check out The Power Vertical Facebook page or Follow @PowerVertical
Latest Podcast