War Criminal Drank 'Deadly Chemical,' Prosecutor Confirms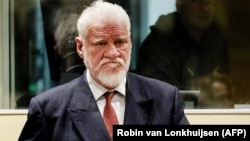 Preliminary tests show that a container from which Croat war criminal Slobodan Praljak drank shortly before dying in The Hague contained a deadly chemical, a Dutch prosecutor said on November 30.
Praljak stunned the International Criminal Tribunal for the former Yugoslavia (ICTY) on November 29 when he drank from a small bottle moments after a UN appeals judge had confirmed a 20-year sentence against him.
The 72-year-old died in a hospital after being rushed from the court.
A former commander of Bosnian Croat forces in Bosnia-Herzegovina's 1992-95 war, Praljak was convicted in 2013 of crimes including murder, persecution and deportation for his role in a plan to carve out a Bosnian Croat ministate in Bosnia in the early 1990s.
He was one of six Bosnian Croat defendants in court on November 29 to hear rulings on the appeal of their sentences at the ICTY.
"There was a preliminary test of the substance in the container and all I can say for now is that there was a chemical substance in that container that can cause death," prosecutor Marilyn Fikenscher told the AP news agency in a telephone interview.
Separately, prosecutor Frans Zonneveld of the Public Prosecution Service in The Hague said on November 30 that an autopsy will be carried out soon on Praljak, although he said it wasn't clear exactly when the autopsy would take place.
'Profound Moral Injustice'
Croatian political leaders seized upon Praljak's suicide as evidence of the failings of the war crimes tribunal, which was in the process of handing down its final judgement on November 29 before ending its activities.
Conservative Prime Minister Andrej Plenkovic on November 30 voiced outrage at Praljak's death, describing his suicide as "an act showing a profound moral injustice" and that the verdict was "unacceptable."
Croatian President Kolinda Grabar-Kitarovic left a summit of female political leaders in Iceland, and the parliament broke off a session in the wake of the events at the tribunal.
Croatian lawmakers held a moment of silence for Praljak and the war victims on November 30, saying "let the death of General Praljak be the last act of the war."

Besides Praljak, the other five defendants included Bosnian Croat leader Jadranko Prlic, who appealed his 25-year term imposed by the court in The Hague, and four others, who are also appealing long prison sentences ranging from 10 to 20 years.
Before the November 29 hearing was halted, Prlic had also had his 25-year jail term upheld.
Prlic had been found guilty of being part of a criminal enterprise by the wartime Croatian government of late President Franjo Tudjman, to create an ethnically pure state.
Judges upheld that key finding, despite Croatian officials having denounced it and calling for it to be overturned.
'Important Step'
Meanwhile, the U.S. Embassy in Sarajevo called the court's verdict an "important step toward holding to account those individuals responsible for the tremendous suffering of the people" of Bosnia.
It also urged all parties to respect the verdict, and "rededicate themselves to the continued reconciliation and peaceful coexistence essential to the future of a stable, secure" Bosnia.
The appeals hearing comes a week after the judges sentenced former Bosnian Serb military commander Ratko Mladic to life in prison.
It marks the end of two decades of work by the court, set up in 1993 at the height of the Balkans conflicts to prosecute Europe's worst atrocities since World War II.
With reporting by RFE/RL's Balkan Service, AFP, Reuters, The New York Times, and the BBC