A new political movement promises to unite Russia's fractious opposition for a unified challenge to the Kremlin: it's happened so many times since Prime Minister Vladimir Putin took power more than a decade ago, you'd be forgiven for wondering why anyone should notice.
Far from doing anything to dent Putin's soaring popularity, the opposition has found itself sidelined from mainstream politics by a government bent on stamping out any challenge. When it comes to prospects for change, Russia may be light years away from Egypt or other Middle Eastern countries now toppling their long-serving tyrants. But that hasn't stopped a group of opposition leaders from forming the country's newest liberal party to take part in key elections next year.
One of them even hopes to overcome great odds by becoming the first presidential candidate to challenge the Kremlin on behalf of a unified opposition. Vladimir Milov says the People's Freedom Party he co-founded last year -- together with some of the country's best-known opposition figures -- will seek to capitalize on what the Kremlin's critics see as growing public dissatisfaction. But even he admits his People's Freedom Party is unlikely to challenge Putin's authoritarian rule as opposition members struggle to remain relevant in a country that -- despite its yawning problems -- hardly cares about them.
Duty To Run
Tall, handsome, and well-spoken at age 39, Milov is the newest poster boy for Russia's liberal opposition: a former deputy energy minister who's often seen on the front lines of protests against the authorities. But he'll have to overcome overwhelming odds if he wants to succeed even in registering to run in next year's presidential election.
That's because the Kremlin has made it all but impossible for genuine opposition politicians to participate.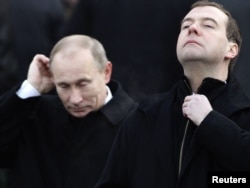 What, us worried? Ex-president and current Prime Minister Vladimir Putin (left) and President Dmitry Medvedev
Banned from state media, denied registration on ever-stricter technicalities, and -- even if they somehow manage to run in elections -- snowed under by ballot stuffing, liberal parties have lost all their seats in parliament, their beleaguered leaders subjected to regular ridicule by officials who say the opposition is unpopular because it has nothing to offer.
Not that opposition parties are blameless for the failure. Notorious for their bickering, rival politicians have never managed to overcome their differences and field a single presidential candidate, despite solemn vows to do so.
Still, Milov says the opposition has a duty to try to register for parliamentary and presidential elections next year, the last important national ballots for "a long time ahead."
"It's the last chance to have a fair dialogue about the country's future for a long time, to resolve the problems Russia is facing in a civilized manner," he says. Parliamentary elections are scheduled for December and a presidential vote months later, in March 2012. After that, there won't be another presidential election until 2018.
Growing Public Dissatisfaction
The People's Freedom Party's other co-founders are well-known: Yeltsin-era reformer and close Milov associate Boris Nemtsov, former parliament member Vladimir Ryzhkov, and ex-Prime Minister Mikhail Kasyanov. Milov admits there's little chance the authorities will accept their official registration application. "But we can't just sit around and allow Putin's authoritarian regime to stop people from supporting a viable and credible opposition," he says.
Opposition leaders Vladimir Ryzhkov, Mikhail Kasyanov, Boris Nemtsov, and Vladimir Milov at a December 2010 meeting
"The great majority of people demanding change in Russia want to see a new political party make an attempt to participate in the election," Milov says. "They want to have the chance to see a new democratic opposition party on the ballot."
A sluggish recovery from the effects of the global financial crisis, strong-arm authoritarianism, and massive corruption are prompting more Russians to criticize the government, even if their numbers are still small. A poll this month by the independent Levada Center showed Russians equally divided between those who believe their country is moving in the right direction and those who think it's going the wrong way: 42 percent each.
Pressed about how the new party will exploit public dissatisfaction any more effectively than its many predecessors, Milov says traditional opposition such as the Yabloko Party -- which saw its heyday in the 1990s -- was ineffective because it tried to "flirt" with the Kremlin.
"Their political course has been to play two sides," he says, "calling for the democratization of Russia on one hand while also conducting secret negotiations with the Kremlin about how many seats they would get in parliament. Those tactics have failed."
Milov says newer movements such as The Other Russia -- led by chess master Garry Kasparov and writer Eduard Limonov -- were unsuccessful because they aimed at fomenting color-revolution-style change through street protests without making any effort to "educate" the electorate.
"The crucial point right now is for the opposition to talk to the people," Milov says, "reach out directly, find the ideas and language that would be acceptable to the Russian population and get more new supporters. That's what the People's Freedom Party project is all about."
A New Face
As for why opposition supporters should prefer Milov for president instead of his better-known colleagues, he cites a "strong demand for new faces."
"We need a lot of renewal in the opposition," he says, "which is my mission here."
Political analyst Kirill Rogov agrees that Milov represents a "new generation" in Russian politics. "He began as an expert, a technocrat in government," Rogov says, "before making a conscious decision to enter politics. That was an unfashionable, unusual career choice."
Milov's political awareness began early. The son of an engineer posted to India in the 1970s -- when Milov was seven -- he was surprised to see slogans from rival political parties on Indian houses during elections. "Our family was far from opposition-minded," he says. But the visit opened his eyes to the repressive nature of Soviet rule.
After graduating from the Moscow State Mining Institute, Milov accepted Nemtsov's offer to join the government in 1997. Nemtsov was first deputy prime minister at the time and considered one of Yeltsin's likeliest successors.
Milov worked his way up to deputy energy minister, spearheading a plan to reform the state natural gas monopoly Gazprom in 2002, soon after Putin became president.
"It was far less clear where [the country was] going at the time," he says. "Putin openly embraced the agenda of liberal economic reform, while the assault on political and civil liberties and media freedom was fragmented."
But Milov quit the government after Putin vetoed his plan to restructure Gazprom. He launched a think tank called the Institute of Energy Policy and entered opposition politics. He's since worked closely with Nemtsov, helping form an opposition group called Solidarity.
Liberal Nationalism
But Milov left Solidarity last year after the movement's leaders voted to expel an ally they accused of posting racist comments on the Internet.
That may not bode well for hopes the opposition would coalesce around Milov. Another Solidarity co-founder, veteran human rights activist Lev Ponomaryov, criticizes Milov's call for liberals to abandon "universal values" in favor of a "liberal nationalism." Besides, Ponomaryov says, Milov lacks the proper qualities to lead the opposition.
"He's an accidental opposition figure, a friend of Nemtsov's," he says. "He's an expert, a theorist -- a good expert -- but when he was in Solidarity, I could see he can't handle organizational work."
Still, Ponomaryov believes the People's Freedom Party represents the best chance to unite the opposition by bringing together some of its top leaders. But while he agrees public dissatisfaction is mounting, he says that won't necessarily translate into opposition support.
"On one hand, unhappiness is growing," he says, "but when asked whom they'll vote for, Russian voters name only two people" -- Putin and President Dmitry Medvedev -- "those they see on television."
Nevertheless, Ponomaryov believes the party could win the 7 percent of the popular vote needed to qualify for seats in parliament if the authorities allowed it to register for the elections.
As for Milov's presidential hopes, Rogov says in the era of Putin, talk about his candidacy at this point is only that. "It's a gesture, not a real political possibility."