The sister of prominent Iranian journalist and rights activist Reza Hoda Saber has confirmed her jailed brother's death following a 10-day hunger strike, according to RFE/RL's Radio Farda.
Saber had been transferred to a hospital from Tehran's Evin prison, where he had been held since being imprisoned along with hundreds of other activists and intellectuals in the wake of Iran's disputed June 2009 election.
His sister, Firouzeh Saber, told Radio Farda that the family believes authorities waited several hours after Saber complained of chest pains to hospitalize him.
From jail, Saber had launched his hunger strike on June 2 to protest the treatment of another jailed rights advocate, Haleh Sahabi,
who died
after what eyewitnesses described as a scuffle at the June 1 funeral of her father, himself a regime opponent who had served time in Iranian jails.
"There are three issues here," Firouzeh Saber told Radio Farda hours after his death. "First of all, why was he in prison? He had been in prison without having been sentenced. Second, why did a tragedy such as [Sahabi's] death happen, leading [Saber] to go on hunger strike? And third, why were [authorities] so careless that it took them several hours to take him to the hospital [after he complained of chest pains]."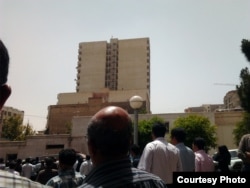 This photo posted by the "Kaleme" opposition website suggested that relatives of Reza Hoda Saber gathered in front of Tehran's Modarres hospital after news of his death emerged on June 12.
The opposition "Kaleme" website was among the sources of the original report. The ISNA news agency said Saber's sister had identified his body.
Saber had previously been jailed on several occasions since 2000.