Hundreds of protesters have gathered in Cairo's Tahrir Square in the biggest protests seen since the mass demonstrations that toppled former President Hosni Mubarak in February.
An umbrella organization, the April 6 Movement, called for protests in cities across Egypt to express dissatisfaction at the pace and direction of political change.
Protests were called following violent clashes between youths and security forces in the Cairo's central square on June 28 and 29, when more than 1,000 people were injured.
RFE/RL's Cairo correspondent Joe Hammond said the area was tense in anticipation of the protests and that the April 6 Movement had pitched tents to stage a sit-in on Tahrir Square in defiance of the military authorities.
Seeking Justice
Organizers are demanding that members of the Mubarak regime be put to justice while relatives of those who died in February's violence are properly compensated, Hammond says.
"The most important demand is that [Hosni] Mubarak and Gemal [his son] and the former members of the regime, as well as 'the murderers,' they keep saying 'the murderers,' are brought to jail and are put in jail -- real jails they said, jails in Cairo, not resting in places around Sharm al-Sheikh, because in real jails, murderers, and members of the former regime need to be put on trial," Hammond says.
Underlying that goal is a suspicion that Mohamed Hussein Tantawi, Egypt's interim head of state and head of the ruling supreme military council, remains too close to Mubarak -- despite the arrest and detention of the ousted former president and several members of his family -- and is spearheading a drive by the armed forces to hijack the revolution.
Hammond says the most prominent chant among protesters who gathered near Tahrir Square on June 28 was "the people demand that the field-marshal [Tantawi] go."
Some believe that the military's rule since February has been even more repressive than that of Mubarak. Causing particular anger has been the use of detention without trial. Estimates show that imprisonment of protesters without trial and the use of military tribunals has massively increased since February.
This has resulted in grumbling that the February revolution was not enough and that a further uprising is necessary.
"You meet a lot of people who say, 'we've come to the realization that we didn't have a real revolution' or who tell me, 'we're going to have a second revolution,'" Hammond says.
"And these aren't people who I would describe as the activists that were on social media, Twitter and Facebook. I'm just talking about regular Egyptians who I talk to about what should you do in the protest against Mubarak. They say, 'well, the second revolution is coming.'"
Second Revolution?
Such talk is played down by analysts like Mustafa al-Labbad, director of the Al-Sharq Center for Regional and Strategic Studies. The real goal, al-Labbad says, is to prevent the gains of February's revolution being hijacked at the expense of liberal-leaning democrats.
"I don't think that Egypt is heading to a second revolution. Many people in Egypt are thinking that the revolution is kidnapped by the military and Islamists movements," al-Labbad says.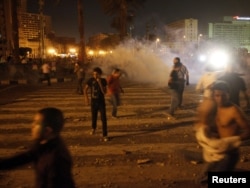 Protesters throw rocks and run away from tear gas on Tahrir Square on June 28
"So many NGOs [nongovernmental organizations], liberals, leftists, are willing to demonstrate in order to show that liberals and NGOs are part of this revolution and they will not let this revolution be kidnapped."
Liberals, al-Labbad explains, face defeat in upcoming elections and subsequent marginalization in the political process by an Islamist movement that boasts much greater organizational powers.
"The main problem is the imbalance in the Egyptian political scene. We have, on the one side, the military council and Islamists, maybe the business elite as well," al-Labbad says.
"On the other hand, all liberal movements are not allowed to express their views as they wish. So, the main problem now is that shift in the balance of power in favor of the Islamists movement."
It is such considerations that have prompted groups such as the April 6 Movement to press for a delay in the parliamentary elections, scheduled for September, to allow liberal parties more time to prepare. Liberals are also calling for a new constitution to be prioritized first over the staging of elections.
Whether such goals were uppermost in the minds of those involved in the clashes in Cairo on June 28 and 29 seems doubtful. Accounts differ as to what triggered the events, although eyewitness descriptions appear to suggest that many demonstrators were targeting the Interior Ministry.
What is not in doubt is that protesters threw stones and assorted missiles at the security forces, who in turn used tear gas and batons. Many suffered facial injuries and even some police were affected by the tear gas.
Hammond, who witnessed the scenes and suffered the effects of tear gas, says the violence -- into which Egyptian authorities have ordered an inquiry -- betrayed a confusion over aims and just what kind of change many Egyptians are seeking.
"You had very conflicting reports about why everyone was there. Some people said that, 'I was just standing here and the police started attacking us.' Other guys who were throwing stones said, 'this is because the police are thugs.' There was a lot of confusion. People would come to me and ask me what this was all about," Hammond says.
"On Twitter, there were many tweets that said, 'Come to Tahrir and defend our brothers.' There were people who claimed they had come all the way from Alexandria, which is several hours away, just to be here for this protest and I asked them, 'why did you come here?' and they said, 'to defend the revolution.' But it was very unclear just what kind of social change they were hoping to create just by throwing stones at the police."