Hundreds of people have marched in two southern Syrian towns demanding freedom, the fifth straight day of protests against Syria's ruling elite.
Witnesses said the protests took place in the city of Daraa and the nearby town of Nawa.
Navi Pillay, the UN high commissioner for human rights, meanwhile called for a transparent probe into a crackdown on demonstrators over the weekend that led to the deaths of six people in Daraa.
The European Union has condemned the crackdown against peaceful protesters as "unacceptable."
compiled from agency reports
Liveblog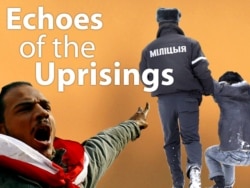 Tracking events and ideas convulsing the Arab world and with ripples around the globe, including RFE/RL's broadcast region.
Click here