The Briefing: Putin's Purge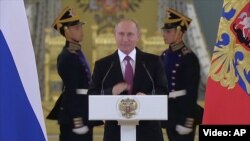 On this week's Power Vertical Briefing, we look at the fallout and implications of last week's massive shake-up of regional and federal elites in Russia.
Is a purge of the elite under way as the Kremlin gears up for elections?
Joining me is RFE/RL Senior Editor Steve Gutterman.
Enjoy...
About This Blog
The Power Vertical is a blog written especially for Russia wonks and obsessive Kremlin watchers by Brian Whitmore. It offers Brian's personal take on emerging and developing trends in Russian politics, shining a spotlight on the high-stakes power struggles, machinations, and clashing interests that shape Kremlin policy today. Check out The Power Vertical Facebook page or Follow @PowerVertical
Latest Podcast