The UN's top rights official has condemned the reported use of cluster munitions and heavy weaponry by Libyan government forces, saying that the attacks could amount to international crimes.
In a statement today, High Commissioner for Human Rights Navi Pillay condemned "indiscriminate attacks" on civilians in Misurata and called for a halt to the siege of the rebel-held western city.
PIllay cited reports of a cluster bomb exploding close to a hospital, medical centers being hit by mortars and sniper fire, and snipers targeting citizens.
"I urge the Libyan authorities to face the reality that they are digging themselves and the Libyan population deeper and deeper into the quagmire," she said.
"They must halt the siege of Misurata and allow aid and medical care to reach the victims of the conflict."
Pillay's condemnation came as Western countries stepped up their promises of aid to the rebels fighting long-time ruler Muammar Qaddafi.
French President Nicolas Sarkozy told Mustafa Abdel Jalil, the head of Libya's opposition Transitional National Council (TNC), that Paris would intensify air strikes on Qaddafi's forces and send a small number of military officers to help the rebels.
Jalil is making his first international tour in his new capacity.
"We came here to ask President Sarkozy and the French government for more support and we have been promised that" he told reporters after the talks.
"We promise the international community that we will work to build a democratic society where the head of state is elected by a ballot box and doesn't come [to power] on a tank."
No Ground Troops Will Be Sent
Italy also announced it would send 10 military advisers, following a pledge by Britain to send 20 advisers.
All three countries have stressed, however, that they will send no ground troops to Libya.
Asked if his country would consider sending troops if the Libyan people requested it, French Defense Minister Gerard Longuetl told reporters that it was "a real topic that merits reflection by the international community", but that ultimately the matter was "a case for the UN Security Council."
The new developments come amid battlefield deadlock in the North African country and a humanitarian crisis a month after the start of NATO-led air strikes aimed at protecting Libyan civilians.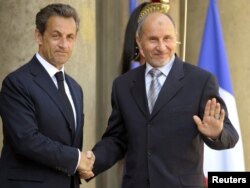 French President Nicolas Sarkozy (left) greets Mustafa Abdel Jalil, head of the main Libyan rebel council, as he arrives for a meeting in Paris.
The situation in Libya is in a stalemate, with the rebels still controlling most of the east of the country and Qaddafi holding on in the west.
There, Qaddafi's forces have been pounding opposition-held Misurata, Libya's third largest city, with mortars and rockets, a NATO official said on April 19.
World Health Organization (WHO) spokesman Tariq Jasarevic told AP that hospitals were having difficulties performing surgeries and 120 patients needed evacuation.
Stocks of food, fuel and medicine are reportedly becoming depleted. Commissioner Pillay said while the international community doesn't know how many people have died in the two months of fighting in the cut-off city, the numbers are substantial and include women and children.
According to the AFP, a senior rebel official in Misurata implored Britain and France to send troops to help fight Qaddafi on a "humanitarian basis" in the first instance of the insurgents pleading for soldiers on the ground.
AP has reported that Western diplomats are organizing an emergency session of the UN Human Rights Council in Geneva as soon as next week to discuss government crackdowns on civil unrest, and the situation in Libya would be set for examination. The diplomats spoke anonymously because of the sensitivity of the matter.
Libya Says British Mission Will Only 'Prolong' Fighting
Britain, which has already provided body armor and satellite phones to the Libyan opposition, said on April 19 it would send up to 20 senior soldiers to help coordinate the rebels.
British Foreign Secretary William Hague said, however, that they would not provide arms or assist in military operations.
"As the scale of the humanitarian crisis has grown, so has the urgency of increasing our efforts to defend civilians against the attack from Qaddafi forces," he said.
Officials of Qaddafi's regime have warned against the move. Deputy Foreign Minister Khaled Kaim told AP that the rebels are not well-organized and that the British mission is likely to be a "failure," adding that the plan might only "prolong" the fighting.
NATO Making 'Significant Progress'
NATO spokeswoman Oana Lungescu, meanwhile, expressed optimism at a press conference on April 19 in Brussels, which marked one month since the beginning of the campaign of air strikes.
"We've struck a broad range of targets: tanks and rocket launchers, armored vehicles and ammunition sites," she said.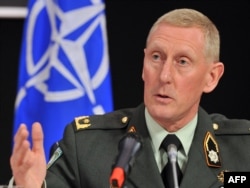 NATO Brigadier General Mark van Uhm
"We're keeping up the pressure on the Qaddafi regime's forces to stop their brutal onslaught against civilians.
"It's a challenging task but we're making significant progress in weakening Qaddafi's ability to use his military machine against his own people."
Qaddafi's son, Seif al-Islam, went on state television the same day to say he was "optimistic" of victory.
But Dutch Brigadier General Mark van Uhm, chief of allied operations, told reporters that more than 30 percent of Qaddafi's military capacity has been destroyed:
"We are steadily degrading [Qaddafi's] command and control capability and his ability to sustain forces on the ground," he said.
"We are maintaining a high operational tempo and we adjust our operations on a daily basis against what is clearly a rapidly changing environment on the ground."
Meanwhile, Libyan government spokesman Mussa Ibrahim has questioned what the Libyan people -- outside of the government and the rebel movement -- really want.
"Who decides the future of Libya: the rebels, or any other groups, or the Libyan population?" he was quoted as saying by Reuters to Chinese television in Tripoli.
"Everyone moral and logical would say the Libya population should decide. Then what right do the rebels have to precondition the political process for the Libyans? What if the Libyans want the leader, Muammar Qaddafi? Who can say no to them?"
compiled from agency reports