Quiz: How Much Do You Really Know About Kazakhstan?
The new Borat movie -- Borat Subsequent Moviefilm -- is again focusing attention on Kazakhstan. When the first film came out in 2006, Astana (or Nur-Sultan now) banned its showing. Now, it's getting smart and is using Borat's catchphrase "Very Nice!" as its new tourism slogan.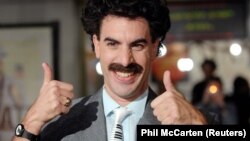 Test your knowledge!
​