Mladic Genocide Trial A Big Story Everywhere, Except Serbia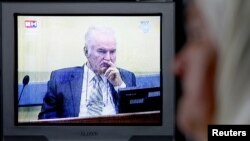 The opening of the trial of Ratko Mladic in The Hague on May 16 made news all over the world. All over the world, that is, except Serbia.

The former Bosnian Serb general appeared in court on 11 charges of genocide and war crimes. He is accused of orchestrating the 1995 Srebrenica massacre of nearly 8,000 Muslims and the 44-month siege of Sarajevo, in which more than 11,000 people were killed.

Yet, if television stations everywhere broadcast at least part of the proceedings, Serbian stations did not. They confined the news to the headlines, then moved on to other events.

Branka Trivic, an RFE/RL correspondent in Belgrade, says that is in line with how Serbia reacts these days to any news from The Hague.

"The Hague tribunal and the trials under way there are getting almost no attention in Serbia's media," Trivic says. "The impression is that once they delivered the last guy indicted of war crimes, they just closed that chapter, and there is no discussion whatsoever about, for instance, who were those responsible for hiding Mladic so long?"

Mladic was arrested by the Serbian Security Intelligence Agency on May 26, 2011, after being on the run since he was indicted in 1995. He was found living in northern Serbia, without disguise and in plain sight.

Today, if he seems to be a taboo subject for Serbia's mainstream media, he also is an invisible man to the country's politicians.

He has received almost no mention in Serbia's ongoing presidential race, which will conclude with a second-round vote on May 20.

Boris Tadic, who announced Mladic's arrest last year when he was Serbian president, rarely speaks of The Hague in his debates with presidential challenger Tomislav Nikolic. That is despite the fact that Nikolic, a nationalist, used to criticize Tadic for handing over suspects to the tribunal as part of the country's drive to join the European Union.

In a televised debate on May 16, Tadic made only a brief reference to indicted war criminals, saying: "People in Serbia could not travel because of sanctions in the period when you, Mr. Nikolic, were in the government. The people of Serbia were trying to save themselves from the bombs, as were the people in the region, too. That is the fundamental difference between our policies. You said that the parliament will be a safe house for The Hague suspects. In the name of the citizens, we solved that problem, as well."

Trivic says Serbia stopped talking about war criminals once the last of the 46 people indicted by The Hague tribunal, Goran Hadzic, was arrested in July.

To be sure, Mladic himself has not yet spoken at his trial, and when he does there could be a resurgence of interest in his case. But for now, quiet reigns.

The attitude in Serbia today toward those indicted appears to be that they were an obstacle to getting into the EU, not a cause for soul-searching or debating the country's past.

Tadic's promise a year ago that police would also track down and punish all those who helped Mladic has never been fulfilled.


Mladic's trial was adjourned on May 17 indefinitely on what appears to be a legal technicality. Presiding Judge Alphons Orie said he was suspending the trial due to "errors" made by prosecutors in presenting evidence to Mladic's defense lawyers. The judge said he aimed to establish a date for the resumption of the trial "as soon as possible."