CHAK SHAH MUHAMMAD, Pakistan -- Chak Shah Muhammad, a remote and rather unremarkable village in northeast Pakistan, has suddenly found itself at the center of the world's attention.
The village was put on the map after Osama bin Laden's youngest wife reportedly told Pakistani officials that the Al-Qaeda leader lived in the farming village for two years before moving 30 kilometers to the north to his hideout in Abbottabad, where he eventually met his fate last week.
The revelation has led scores of journalists and men in uniform to descend on the village, bewildering locals who deny adamantly that the world's most-wanted terrorist and his family lived in their village without anyone noticing.
With its mud-brick houses, washboard roads, and dozens of caves used as makeshift livestock shelters or even summertime nooks, Chak Shah Muhammad is a far cry from the wealthy resort town of Abbottabad, where bin Laden lived in a sizeable villa before he was killed in a U.S. raid last week.
There is no electricity in the village, let alone Internet connections or cable television.
Locals in the impoverished area depend on their wheat harvests and livestock to eke out a living, and belong to a tight-knit community. Villagers say people in the area know each other by name, and would immediately spot any outsider who came to the village and tried to live there.
Amid the recent attention, security officers have been searching houses and, especially, nearby caves, village elder Fayaz Ahmad Khan says. Khan, however, finds it impossible to believe that bin Laden could have survived in one of the caves in the village for two years.
"No, no, it is not possible. The people living here know each other for generations," Khan says. "And people are very poor here; they don't have as much resources to construct homes. So we dug those caves for our cattle. How Osama could have lived here with no water, no electricity -- it is impossible."
Not High-Living
There are over 100 caves in the village, which people use for storing harvests or sheltering their cattle and sheep during the winter. Some households in Chak Shah Muhammad use the caves as summer homes.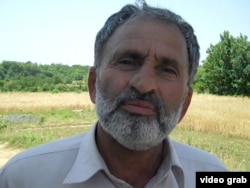 Chak Shah Muhammad resident Fayaz Ahmad Khan doesn't believe Osama bin Laden ever lived in the village.
It's much cooler inside the caves during the hot summer months, offering respite from temperatures that reach 45 degrees Celsius. But it's not easy street, says Imran, a teenager who resides in a cave along with his family.
"These caves were made by poor people long ago to keep their cattle there. They did not have enough money to build a barn," Imran says. "Those who say Osama was living here are telling a lie. How could such a rich man like Osama live in these caves? During rainfalls, water gets inside these caves, and sometimes caves collapse and one could die here."
There is not a single school, shop, or market in Chak Shah Muhammad. Children go to a nearby village's school. The nearest grocery is in the town of Haripur, about 4 kilometers away. Chak Shah Muhammad residents usually go by foot to Haripur to buy supplies or to sell dairy products. There is no public transport in the village and no one owns a car.
Pakistani officials have not yet confirmed or denied the reported claim by bin Laden's youngest wife. But if appearances count for anything, Chak Shah Muhammad's remoteness and lack of development would appear to make it an attractive hideout.
Its 300-odd houses are located far apart, often a 10-minute walk from each other amid open wheat fields.
Even those most skeptical about the village once having been bin Laden's refuge admit that if someone managed to get into a Chak Shah Muhammad home and never left, people living in other houses wouldn't notice them easily.
'He Was A Good Man'
Since the fall of Afghanistan's Taliban regime in 2001, it has been widely believed that bin Laden was living in the tribal areas along the Pakistani-Afghan border, far to the west of Chak Shah Muhammad. Numerous Al-Qaeda fighters have been arrested in the tribal areas, which have frequently been the scene of military and security operations.
Chak Shah Muhammad is located in an area not known for supporting Al-Qaeda or any other religious extremist groups. Villagers say they've never seen a major military operation in their area. And until recently, there was not even a police checkpoint along the roads leading to the village.
But Chak Shah Muhammad and nearby villages are not the most unlikely of hideouts either. Nearly a dozen militants belonging to Al-Qaeda and other groups -- most notably Egyptian Al-Qaeda operative Abdullah al-Misri -- have been arrested in the area by Pakistani authorities in recent years.
And while Al-Qaeda might not be popular among residents of Chak Shah Muhammad, barely anyone expresses disapproval of bin Laden.
"Osama was a good man, a very wealthy good man," says a teenage boy playing alongside the village's muddy road. "This is all I know about him."
reported by Fawad Ali Shah from Chak Shah Muhammad, Pakistan, and written and reported in Prague by Farangis Najibullah