Demonstrators have taken to the streets of two Arab countries, Yemen and Syria.
Supporters and opponents of Yemen's embattled president held rival rallies in Sanaa, while in Syria antigovernment protesters also demanded reforms.
Tens of thousands of supporters of embattled Yemeni President Ali Abdullah Saleh massed in downtown Sanaa to bolster his regime while, nearby, antigovernment protesters massed to demand he step down.
Saleh supporters, many of them tribesmen from the countryside, carried large portraits of the president in tribal headdress rather than his customary suit and tie.
In a brief address to the crowds, Saleh told his supporters that he was prepared to sacrifice his life for Yemen.
"I vow to you the masses that I will sacrifice my soul and blood, and everything precious for the great people of Yemen," Saleh said. "I greet you wherever you may be, at home or abroad."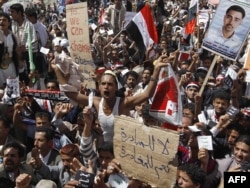 Antigovernment protesters demonstrate in Sanaa on April 1.
Less than 2 kilometers away, tens of thousands of mainly young protesters thronged the central square near Sanaa University, where they have maintained a camp since February.
The Associated Press estimated that the number of antigovernment protesters reached into the hundreds of thousands, which would make it the largest antigovernment protest yet in a more than a month of demonstrations.
In an address to the protesters, preacher Yehya al-Dailami compared Saleh, who has been in power for more than three decades, to the pharoah.
He said Saleh "thought he owned the country and the people. He thought that people are sheep and that he can milk them, and herd and slaughter them if they resisted."
There were no immediate reports of clashes between the pro- and antigovernment sides.
The twin, rival rallies repeat a similar test of strength a week ago that only narrowly escaped violence. On March 25, soldiers intervened to fire warning shots over the heads of Saleh's supporters as they tried to advance upon the protesters' camp.
News agencies reported anti-Saleh protests in at least 14 other provinces around Yemen today. Witnesses said hundreds of thousands of people attended demonstrations in the provinces of Aden, Taaz, and Hadramout.
Support for the opposition in Yemen has multiplied since loyalists of the president shot dead 52 protesters on March 18. But Saleh, who has been in power for more than three decades, has vowed to hand over power only to "safe hands," ruling out doing so to current opposition leaders.
Syrian Unrest
Meanwhile, thousands of demonstrators gathered in several Syrian cities today and chanted "We want freedom!" despite the government's lethal crackdowns on protests in recent weeks.
Witnesses say that today's rallies against the hard-line rule of Syrian President Bashar al-Assad again turned deadly. Security forces reportedly killed at least three protesters, with some of the deaths occurring in a suburb of the capital, Damascus.
Syrian state media said no clashes had occurred.
Witnesses in the southern town of Daraa, which has been the focal point of protests, say thousands of faithful took to the streets after Friday Prayers.
Witnesses said up to 5,000 people took to the streets there, shouting "We want freedom!" Security forces were heavily deployed in and around the city but did not immediately intervene to stop them.
Protests were reported also in Douma, a suburb of the capital, Damascus, as well as in the coastal cities of Latakia and Banias. Witnesses said at least three people were killed when security forces opened fire on protesters in Douma.
Protests were also reported in the mainly Kurdish-populated northeast. Organizers told news agencies that several hundred people marched peacefully in the streets of Qamishli and Amuda.
More than 70 people have been killed in Syria since March 18 as security forces have opened fired on rallies in Daraa and Latakia.
But if the violence has shocked Syria, it also seems to have given the protests new momentum. On March 25, crowds took to the streets of numerous cities, including the capital, Damascus.
In an effort to head off today's planned rallies, Syrian President Bashar al-Assad said on March 31 that he was setting up committees to look into the deaths of civilians and into replacing the decades-old emergency laws. The highly unpopular emergency laws allow the regime to arrest people without charge.
But earlier this week, Assad dashed reformists' hopes that he would announce sweeping reforms when he instead
blamed the growing unrest
on a "foreign conspiracy."
The citing of "foreign" hands drew a rebuke from Washington, which urged Damascus instead to listen to the demands for change.
"Leaderships of many of these countries need to respond to the legitimate aspirations of their people," U.S. State Department spokesman Mark Toner told reporters in Washington on March 30. "It is far too easy to look for conspiracy theories [rather than] respond in a meaningful way for the call to reform."
The degree of popularity Assad commands in Syria remains difficult to gauge. So far, few protesters have publicly called on Assad to step down. Instead, they have focused on demands to ease Syria's stringent security regime and to fight corruption.
compiled from agency reports
Liveblog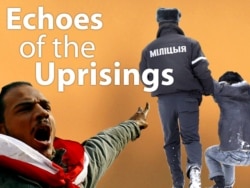 Tracking events and ideas convulsing the Arab world and with ripples around the globe, including RFE/RL's broadcast region.
Click here