MOSCOW -- Russian and U.S. oil giants Rosneft and Exxon Mobil have agreed to explore untapped oil and gas in the Russian Arctic in a landmark multibillion-dollar deal.
The signing of the agreement on August 30 signifies a coup for Russia's biggest oil producer, which has long sought a partnership with a Western energy major that has experience in deep-sea drilling in the harsh conditions posed by the Arctic Ocean.
The deal, which also gives the Rosneft access to undisclosed plots in the Gulf of Mexico and Texas, brings the state-run energy giant a step closer to its long-term goal of becoming a global energy major.

Russian Prime Minister Vladimir Putin was present as the deal was signed in the Black Sea resort of Sochi by Exxon CEO Rex Tillerson and Russia's top energy official, Deputy Prime Minister Igor Sechin.
"I am really pleased that Rosneft and Exxon Mobil, one of global leaders on this market, have agreed on joint work and are signing an agreement today for strategic partnership," Putin told reporters at the signing.
"I have looked at the deal and direct investment could range from $200 billion to $300 billion," he added, "and if we take into account construction in the territory and the necessary infrastructure, this number could go up to $500 billion."
Exxon And Rosneft's Gain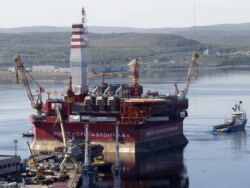 A floating oil platform is tugged from the harbor in the northern port of Murmansk.
According to a statement from Exxon Mobil, $3.2 billion has been earmarked for exploring three sites in the Kara Sea at depths of 50-150 meters in the Russian Arctic Ocean, as well as sites in the Black Sea at a depth of 1-2 kilometers.
Rosneft will own 66.7 percent of the joint venture to develop the blocks, while Exxon will control 33.3 percent of the shares.
The deal provides the United States' largest oil producer access to substantial Russian energy reserves, the sites of which Exxon calls "the most promising and least explored offshore areas globally, with high potential for liquids and gas."
The deal marks a major defeat for Britain's BP, the energy major that had preliminarily agreed to explore the Arctic with Rosneft until the deal collapsed earlier this year. Adding insult to injury, Russian bailiffs on August 31 searched BP's Moscow office in connection with a minority shareholder's lawsuit.
...And BP's Loss
The collapse of the Rosneft-BP partnership this year -- despite Sechin's blessing -- is also a premonition of the dangers that foreign companies face when working in Russia.
Analysts were reluctant to be drawn on whether the latest partnership would fare better, particularly in the short term.
"Rosneft was really looking for a new partner able to bring some development to its global ambitions," says Natalia Orlov, the chief economist at Alfa Bank in Moscow. "We don't yet have a good idea of how well this new partnership will be -- it will take time. And in any case we are talking about very long-term projects."
The deal marks a victory for Exxon Mobil's Russia strategy, which had appeared to be in tatters since 2003, when it was widely believed to be poised to take over Russian oil behemoth Yukos.
Instead Yukos was broken up that year and assimilated by Rosneft after its owner, Mikhail Khodorkovsky, was convicted of fraud and tax-evasion charges that were widely seen as politically motivated.