Road Rage: Russian Governor Threatens To 'Dig Up' Village Road Over 'Grumbling' Voters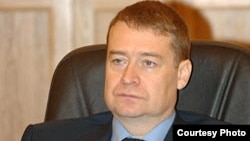 One issue Russians of all political stripes can agree on is the need to improve the sorry state of the country's roads.
So it's unlikely that the governor of Russia's Mari El Republic endeared himself to voters during a recent campaign stop when he responded to a heckler by threatening to tear up the lone road into their village and let it lie fallow for three years.
Mari El Governor Leonid Markelov issued the warning at the opening of a new clinic last month in Shimshurga, a small village 700 kilometers east of Moscow, just weeks ahead of upcoming local elections in the semiautonomous republic and across Russia.
"I've never encountered this before, with people grumbling and snarling. Everywhere people say thank you," Markelov, a staunch ally of President Vladimir Putin, told the small crowd outside the clinic.
"Well, probably I should give you a similar reception, right? Close down everything and leave, and dig up the road," Markelov continued. "You don't believe I'll dig up the road? You'll wait for three years."
With that, Markelov walked away from the microphone as stray cackles drifted out of the sparse crowd at the August 21 event, which went largely unnoticed until a video of Markelov's appearance began circulating widely on the Internet this week.
WATCH: Governor Leonid Markelov Responds Testily To A Heckler
Markelov, a member of Putin's ruling United Russia party who has governed Mari El since 2001, is running for re-election in the September 13 ballot, which will feature the first direct gubernatorial elections in the republic in more than a decade.
Putin scrapped direct elections of Russia's regional bosses in 2004 in a move widely seen as part of his push to expand and consolidate his power. They were restored in 2012, though Kremlin critics say the Russian president is still able to filter out undesirable candidates.
The Russian opposition views the upcoming regional elections as a dress rehearsal for federal parliamentary elections next year.
The respected independent Russian vote monitor Golos has said that while Markelov's political fate may be "in question," he is likely to keep his post with the Kremlin's blessing.
In the wake of the scandal over his comments, Markelov's spokesman scrambled to clarify that the governor was merely "joking."
"The statement was made as a joke and taken out of context," spokesman Sergei Loskutov was quoted by the Kremlin-loyal newspaper Komsomolskaya Pravda as saying. "The person who made this recording edited out a huge part of the appearance and specially posted the part he needed [online] right before the elections."
Loskutov told the radio station Govorit Moskva that Markelov's threat to tear up the road came in response to an "unflattering" comment from the crowd.
Putin himself has denounced the terrible condition of Russia's roads, which he has attributed to pervasive corruption, and the issue regularly sparks grassroots anger in the country.
In recent years, Russian activists have highlighted the issue by painting caricatures of local and regional officials over potholes, which serve as grotesquely hilarious mouths in these guerilla street portraits.
About This Blog
Written by RFE/RL editors and correspondents, Transmission serves up news, comment, and the odd silly dictator story. While our primary concern is with foreign policy, Transmission is also a place for the ideas -- some serious, some irreverent -- that bubble up from our bureaus. The name recognizes RFE/RL's role as a surrogate broadcaster to places without free media. You can write us at transmission+rferl.org