Opposition politician Aleksei Navalny has confirmed his relocation to a notorious penitentiary in the city of Pokrov, likening the institution to "a friendly concentration camp."
In a sometimes lighthearted message posted on his Instagram account on March 15, Navalny said he was fine after his move three days earlier to the IK-2 prison, noting his daily routine, like that of the other prisoners, was guided by the "literal fulfillment of endless rules."
"I have to admit that the Russian prison system was able to surprise me. I had no idea that it was possible to arrange a real concentration camp 100 kilometers from Moscow," he said in the post.
"That's what I call my new home: our friendly concentration camp."
On March 3, Navalny was moved to Detention Center No. 3 in the town of Kolchugino, though it was expected that eventually he would be moved to a penal colony in Pokrov. The colony has been known as one of the toughest in the European part of the Russian Federation.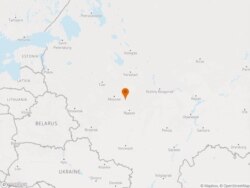 Navalny said he had seen no violence in his new surroundings, "or even a hint of it," joking that he was shocked by a rule prohibiting swearing, though he noted an underlying tense atmosphere in the prison which made it "easy to believe the numerous stories that here, in IK-2 Pokrov, people have been beaten half to death with wooden hammers."
"Three things never cease to amaze me. The starry sky above us, the categorical imperative within us, and the amazing feeling when you run your palm over your freshly shaven head. Greetings to all from the Sector of Enhanced Control A," Navalny wrote on March 15, attaching an old photo showing his shaven head.
As news of his transfer broke, dozens of countries, including the United States, called for his immediate release and an investigation into his poisoning last year with a military-grade nerve agent.

Navalny was detained at a Moscow airport in January immediately upon returning from Berlin, where he was recovering from what several Western labs determined was a poisoning attempt using a Novichok-type nerve agent that saw him fall ill on a flight in Siberia in August 2020.

Russia has denied involvement but Navalny has said the assassination attempt was ordered by Putin.

A Moscow court in February ruled that, while in Germany, Navalny had violated the terms of parole from an older embezzlement case that is widely considered to be politically motivated.

His suspended 3 1/2 year sentence was converted into jail time, though the court reduced that amount to 2 1/2 years for time already served in detention.

Navalny's incarceration set off a wave of national protests and a crackdown against his supporters.

On March 2, the European Union and the United States imposed fresh sanctions against Russia over the Navalny case.

On March 12, the representative for Poland read out a statement to the United Nations Human Rights Council that said the actions against Navalny by Russian authorities were "unacceptable and politically motivated."
With reporting by TASS