Russia's PEN Center Fractures Over Creeping Kremlin Control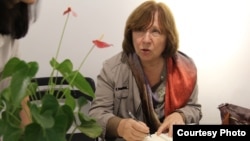 Moscow's PEN Center has long been a welcome setting for prominent writers determined to practice and defend freedom of expression despite crackdowns from on high.
But now some of Russia's top authors are quitting the center amid fears that a Kremlin drive to quell critical voices has reached its halls and had a chilling effect.
Belarusian author Svetlana Alexievich, the Russian-language writer who won the 2015 Nobel Literature Prize, left the Russian PEN Center on January 11, adding her name to a growing list of writers who say the organization is no longer up to the task of advocating for free expression.
The immediate catalyst for the protest is the refusal of the center's leadership to back a petition signed by around 60 writers asking Russian President Vladimir Putin to pardon Ukrainian filmmaker Oleh Sentsov, who is serving a 20-year prison sentence after being convicted in 2015 on charges of belonging to a terrorist conspiracy.
Sentsov, who supporters say received only a show trial, is an internationally known Crimean director who has strongly opposed Moscow's forcible annexation of the Ukrainian peninsula in 2014.
But Alexievich says the split within the Russian PEN Center goes back well beyond the battle over the petition, which saw its initiator, journalist and activist Sergei Parkhomenko, expelled from the group by the center's leadership for "provocative activity."
"It is not about Sergei Parkhomenko, although I know him and respect him," Alexievich told RFE/RL's Belarus Service on January 11. "The fact is that there already has been a struggle between the progressive and dark sides [in the center] for at least six months."

She added that she had wanted to leave earlier but had stayed in hopes of strengthening what she calls the progressive camp.

"A lot of people had already left, including [novelist] Lyudmila Ulitskaya and [satirist] Vladimir Voinovich, and I wanted to leave," she said. "But they asked me to stay with them, because it seemed we could defeat this dark wing. But, unfortunately, that did not happen."
Prominent Defections

Alexievich quit the PEN Center the day after prominent Russian writer Boris Akunin, whose real name is Grigory Chkhartishvili, announced he was leaving, saying the organization does not defend persecuted writers and has "nothing in common" with the global PEN movement.

The defection of some its most prominent figures calls into question the future of a home for Russian and other ex-Soviet writers that has at times been one of Russia's most respected voices of dissent. The center's members notably protested the second war in Chechnya, when Putin used overwhelming military force beginning in 1999 to retake the breakaway republic at the cost of high civilian casualties and mounting accusations of rights abuses.

The Russian PEN Center was founded in 1989, the year the Iron Curtain came down, as a means for writers in Russia to connect with peers around the world who belong to the international PEN network, which itself dates back to 1921. The acronym PEN stands for the society of Poets, Essayists, and Novelists, and members affirm their allegiance to freedom of expression as a value that transcends national loyalties.


The elected leadership of the Moscow center has denied any claims of a split in the organization and placed sole blame for the discord on Parkhomenko, the initiator of the Sentsov petition.

"We in the PEN Center are more than 400 people, and there is only one Parkhomenko," the center's president, Yevgeny Popov, told RFE/RL's Russian Service on January 11. "He was expelled in strict accordance with the Charter of the Russian PEN Center, which stipulates that members can be expelled for acts discrediting the organization and acts against its members."
'Conciliatory, Conformist, Servile'

Popov accused Parkhomenko of tricking other PEN members into signing the petition requesting a pardon for Sentsov.

"Those who are with him are perhaps 10 people, 20, and they brainwash others," Popov said. "Intellectuals are the kind of people who, when somebody calls them and says, 'Will you sign a letter?' they say, 'What about?' And when the answer is 'To support someone who has been offended,' they immediately say, 'Sure, I'll sign it.'"

Many of the writers who have quit the Moscow PEN Center say the real fight is over the club's identity.

"I came into the PEN Center in the early 1990s when there was a completely different social and political climate and it seemed very appropriate that there was such a wonderful, international organization engaged in a noble cause of protecting all who are persecuted for their words, letters, pictures, and so on," writer Lev Rubinstein, who quit over Parkhomenko's expulsion, told RFE/RL.

But he says the PEN Center today is no longer the organization he joined.

"It has become conciliatory, conformist, even in a sense servile," he said.
'Soviet Atmosphere'

Other writers say the atmosphere at the PEN Center today reminds them of the Soviet-era Writers' Union, whose members received state benefits only so long as they served the state's interests.
"It's the transformation of a writer's club with a human rights emphasis into some rigid organizational structure of the type of the 1937 Writer's Union," writer Denis Dragoon told RFE/RL. "I have not yet decided if I will leave or not. If those who expelled Parkhomenko go, then I'll stay."

More than 30 members of the Russian PEN Center have demanded that the organization hold an extraordinary meeting and cancel the decision to exclude Parkhomenko.
The international PEN organization, which is headquartered in London, has not commented publicly on the conflict within the Moscow center.
Russian authorities have increasingly sought to control the space for public debate in Russia in recent years to silence critical voices.
Measures include a "foreign agent" law that stigmatizes or even allows the closure of NGOs that receive funds from abroad and engage in political activity if the Justice Ministry considers the activity harmful to national interests.
They also include severely restricting street protests, even by a single individual, and controls on online speech.