United Russia Elects Vasilyev State Duma Leader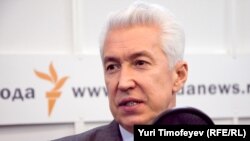 The United Russia faction in the State Duma has elected Vladimir Vasilyev as its leader.

Vasilyev, a member of the parliament's Security and Anticorruption Committee, won the most votes in a secret ballot at a meeting of the parliamentary faction on November 10.

The position became vacant after President Vladimir Putin appointed previous United Russia faction leader Andrei Vorobyov as acting governor of the Moscow region on November 8.

Meanwhile, the speaker of the State Duma, Sergei Naryshkin, said November 10 he was joining the United Russia party.

He told the meeting of the parliamentary faction, "Until today, I have been an unaffiliated member of the faction, and I have made a decision to join the United Russia party."

He said he hoped a decision on his application would be made in November.


Based on reporting by Interfax and ITAR-TASS