Conservationists Fear For St. Petersburg's UNESCO Heritage Sites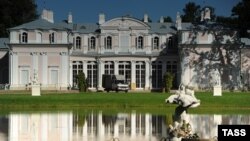 If Russian authorities have their way, the unbridled construction boom that conservationists say has spoiled many of the country's landmarks could soon reach the historic suburbs of St. Petersburg.
While Moscow's urban growth is rapidly engulfing its satellite towns, the elegant tsarist estates that dot the former imperial capital's outskirts have remained largely untouched.
But this may not last.
Russia has submitted a document to UNESCO that significantly scales back the area of St. Petersburg that is currently protected as a World Heritage Site.
Under the proposal, large swathes of the city's historic suburbs, including a string of leafy parks, would lose the UN agency's protection.
"This would benefit developers and officials who want to build in the historical center of Peterhof, Pushkin, Pavlovsk, Oranienbaum, and other suburbs," Alexander Margolis, the head of the Russian Society for the Protection of Monuments of History and Culture in St. Petersburg, told RFE/RL. "For these people, the area's status as World Heritage Sites is a major obstacle that they would very much like to see revoked."
St. Petersburg lawmaker Aleksei Kovalyov was the first to sound the alarm after discovering the amended list of protected sites on UNESCO's website, in the section devoted to the organization's annual session currently being held in Cambodia.
PHOTO GALLERY: St. Petersburg's World Heritage Sites
He swiftly called a meeting with local officials and architectural conservationists.
An official from St. Petersburg's Committee on State Control, Use, and Protection of Historical and Cultural Landmarks sought to reassure the gathering, insisting the document would not be debated at this year's UNESCO session.
But his words did little to ease concerns.
Kovalyov maintains that the proposal is part of an aggressive campaign to seize prized land in some of the city's most prestigious outlying areas.
"It's not difficult to guess who is behind this: people who want to build in the suburbs," he says. "Over the past year alone, 2.5 million square meters have been built over in the outskirts of St. Petersburg and another 2 million square meters in adjoining territories of the [surrounding] Leningrad Oblast. These areas are listed as World Heritage Sites."
Devil In The Details
A UNESCO expert contacted by RFE/RL, however, dismissed the accusations as "a misunderstanding."
Alessandro Balsamo is a member of the UNESCO working group tasked with clarifying the boundaries of St. Petersburg and its historic suburbs as a World Heritage Site.
The group was created two years ago after the agency ruled that the site's demarcation, based on St. Petersburg's 1990 bid, was too vague.
Balsamo denies that attempts are under way to slash the list of protected areas.
"It's not at all a de-listing," he says. "On the contrary, positive steps are being made toward the conservation of all these sites. There is a clarification process because the site is very complex. There are many related component parts. There is no de-listing."
But conservationists say the devil is in the details.
Technically, the number of sub-sites in the World Heritage Site described as "Historic Center of Saint Petersburg and Related Groups of Monuments" remains unchanged in the new document.
The specific areas listed as part of these sub-sites, however, have shrunk by about two-thirds compared to the version approved by UNESCO in 1990.
For the suburb of Pushkin, for instance, the new document mentions only the imperial palace and its gardens, along with one park -- dropping Pushkin's entire old town center and four parks that featured on the original application.
The changes also affect areas closer to St. Petersburg proper.
Among other modifications, what was once listed as "Neva River and its embankments" has now been abridged to "Neva River," evoking images of elite residential buildings lining the riverbanks.
Fearing The Worst
Preservationist Yulia Minutina says developers are already lobbying for several construction projects in UNESCO-listed areas, including a vast residential complex called "Yuzhny," which would encroach on some of Pushkin's protected parks.
There is even speculation that some high-ranking officials could also be eyeing these prized territories for their personal use.
A number of Moscow-based officials, including Gazprom head Aleksei Miller and Russian railways chief Vladimir Yakunin, are
rumored to have built extravagant country residences
just outside the capital following shady land grabs.
In that respect, St. Petersburg officials lag far behind.
The secrecy surrounding the new document has further fueled suspicions.
"The fact that this was not publicly discussed, including with the experts who prepared St. Petersburg's application for UNESCO, is worrying," says Minutina. "Excluding these important territories from the list automatically makes them more vulnerable."
So far, conservationists have been unable to identify the proposal's authors.
The Foreign Ministry, which oversees cooperation with UNESCO, denies being involved. The Culture Ministry also says it had no hand in it. Its representatives in St. Petersburg snubbed the meeting called by Kovalyov.
And although a top official from the city's committee in charge of landmark protection attended the discussion, a spokesman told RFE/RL that the committee chairman "knows nothing about this."
St. Petersburg's governor himself has reportedly professed no knowledge of the document.
"Perhaps authorities are moved by other motives," says Minutina. "But their failure to inform the public about it makes us fear the worst."