Tatarstan Vote Seen As Test For Russian Regional 'President'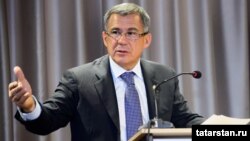 A September 13 election in Russia's Republic of Tatarstan has become an unofficial referendum on whether Vladimir Putin should be the only official in the country who can call himself president.

That's because of a law passed by the national parliament in 2010 that says only the president of the Russian Federation has the title "president."

The law is more than just semantics. It is part of a series of measures from Moscow since Putin came to power 15 years ago that have imposed the supremacy of Russia's federal constitution and reduced the autonomy of the country's regions and republics.

In fact, all other republics in the Russian Federation -- including Chechnya and Tatarstan's neighbor, Bashkortostan -- have already eliminated the presidential title. Their chief executives now have more modest titles, in many cases 'head.'
Tatarstan, where ethnic Tatars descended from those who long dominated Medieval Russia make up a small majority of the population, has sometimes strained at the limits of its autonomy under Moscow, and has a higher level of independence than other Russian regions -- the result of a 1990s pact with the federal government in Moscow.
But the clock is ticking. September 13 could be the last time voters in Russia cast a ballot for a regional president.

And as matters stand now, the winner will only be allowed to call himself president until the New Year.

Incumbent Leader, Kremlin Ally

Tatarstan's current president, Rustam Minnikhanov, is widely expected to win.

Minnikhanov has been a key Kremlin ally since he was picked for the post in 2010 by then Russian President Dmitry Medvedev. At that time, Russia was not holding direct elections for regional leaders.

Putin used him in efforts to ease the concerns of Crimean Tatars – ethnic kin of the Tatars in Tatarstan -- when Russia annexed Crimea from Ukraine in March 2014.

So far, Minnikhanov has not publicly stated a clear position on the presidential title issue.

He has never asked Tatarstan's parliament to defend his title.

But he also describes Tatarstan as a republic that has "a separate way" and "follows its own traditions."

On September 4, Minnikhanov told the mayor of Kazan and other officials in the regional capital that the September 13 election was "in fact, a referendum on the path Tatarstan has chosen."

High Turnout Hopes

There are voices in Tatarstan calling on Kazan to challenge the law.

Rafael Khakimov, director of the Institute of History at Tatarstan's Academy of Science, said that the September 13 vote is "a kind of referendum" on the issue, and that strong turnout would serve as support for retaining an official presidency.

He noted that Tatarstan's constitution specifies that the republic has its own president and parliament.

"If it was up to me, I would have challenged this law a long time ago," Khakimov said. "There is a constitutional court for that. We have laws. We have a constitution."

Khakimov says Tatarstan's regional parliament has been too passive since the national law was passed five years ago, and that no official in Moscow will defend Tatarstan's presidency if Kazan shows no interest in the issue.

But Rafil Nugumanov, a deputy in Tatarstan's parliament, says the time to challenge the legislation will come if Moscow tries to force the issue at the start of 2016.

Tatarstan's parliamentary speaker, Farid Mukhametshin, said that a high turnout on September 13 would prompt lawmakers in Kazan to initiate talks with the Kremlin aimed at retaining the presidential title.

"Tatarstan's parliament disagrees with some of the bills that have been adopted by Russia's State Duma," Mukhametshin told RFE/RL, referring to the lower house of the national parliament. "The bill on eliminating the presidency is one of them."

Satikh Sibagatullin, a State Duma deputy from Tatarstan, also thinks high voter turnout would make it harder for Moscow to force the republic to drop the presidential title.

"If we elect the president with 99 percent support, we'll be able to tell Moscow that all of the people voted for a president – not for a 'head of region,' but for a president," he told RFE/RL.

Sergei Sergeyev and Vladimir Belayaev, political scientists at Kazan State University, say the debate is much ado about nothing.

They say what matters is not the official title of Tatarstan's leader, but whether Moscow allows the republic's next chief executive to keep his full powers.

But some voters in Tatarstan disagree, saying that allowing the national parliament to override the republic's constitution would be giving up more autonomy.

Rkail Zaydulla, a Tatar writer in Kazan, told RFE/RL that if the people of Tatarstan vote for a leader "as a president, he should fight to keep this title."
Written by Ron Synovitz in Prague based on reporting by RFE/RL's Tatar-Bashkir Service