Flower Politics: In Moscow, No Wreath For 'Hero City' Kyiv Ahead of Victory Day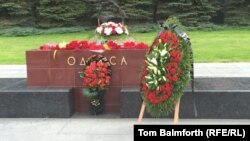 MOSCOW -- Every year as Russia gears up to commemorate Victory Day on May 9, flowers are laid outside the Kremlin walls at a memorial to the twelve "Hero Cities" whose inhabitants' outstanding heroism fighting Nazi Germany during World War II earned them honorary Soviet titles.

But bloggers have latched onto an apparent omission this year at the site, part of Moscow's Tomb Of The Unknown Soldier memorial: No basket of flowers has been laid at the monument to Kyiv.

The flower ensembles placed in front of the other Hero Cities looked official, although it was unclear if they had been placed there by Kremlin groundskeepers, city workers, or activists.

Some speculated the omission was a deliberate nod to hostile relations between Moscow and Kyiv, with Russia-backed separatists continuing to fight Kyiv's forces in eastern Ukraine two years after a popular uprising that ousted Ukraine's Moscow-backed president, Viktor Yanukovych.

By contrast, the memorial to the Ukrainian city of Odesa, also a Soviet Hero City, was festooned with flowers.

In addition to the official-looking flower basket, the Odesa monument displayed flowers laid by Russian nationalists on May 2, marking two years since clashes in that city resulted in the deaths of 48 people, most of them pro-Russian activists who got trapped in a burning building. A black ribbon on a funeral wreath carried the message "to the Russian martyrs."

On May 2, Facebook user Sergei SV posted a photograph of the flowerless Kyiv memorial with the caption: "All the Hero-Cities have baskets with flowers, while Kyiv seems to have been 'punished.' So many of our grandfathers died in Ukraine… I'm off to get flowers." He added a hashtag that translates as #StupidityMustHaveLimits. (#‎ГлупостьДолжнаИметьПределы)
On May 3, passersby approached by RFE/RL were mostly guarded and tight-lipped about the flowers. Those who were prepared to comment on the apparent omission variously brushed it off as a "coincidence" or an obvious political decision due to poor relations with Kyiv. One nationalist applauded the omission of the flowers as just desserts for Ukraine's pivot away from Russia toward Europe.

Oleksandr, a middle-aged Ukrainian from Zaporizhzhya Oblast living in Moscow who preferred not to give his full name, said he hoped it was a coincidence. "But who knows. Look at Odesa," he said, gesturing toward that memorial with its many flowers. "It's very sad what is happening. Very sad," he said after posing for a photograph by the Kyiv memorial.

Others, however, like Natalya, 65, insisted it was a coincidence and professed her love for Kyiv. "Maybe they just didn't put them out. Anything can happen. Kyiv is Kyiv. It's a Hero City. We love it. It's a good city."

But for nationalists like Aleksandr Sergeyev, 59, who described himself as a "worker," the omission was deliberate and entirely appropriate. He called the new government in Ukraine "fascist" -- a slur often thrown at Kyiv by Russian government officials -- with a leader who "licks the backside of Europe."

The monument honors 12 Hero Cities -- Moscow, St. Petersburg (formerly Leningrad), Volgograd (formerly Stalingrad), Sevastopol, Odesa, Kyiv, Kerch, Novorossiisk, Minsk, Tula, Murmansk, and Smolensk -- along with one "Hero Fortress," Brest.

The name of each is displayed in gold on separate blocks of dark-red porphyry containing soil from that city.