'Russian Banksy' Battles To Honor Victims Of Soviet Terror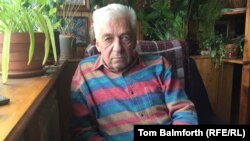 BOROVSK, Russia -- When Vladimir Ovchinnikov started working on his mural commemorating local victims of Soviet repression, the 78-year-old artist had no illusions it would last forever.

Composed on a wall in the center of his hometown of Borovsk, located 90 kilometers southwest of Moscow, it bore haunting black and white portraits of 20 residents who were executed during Josef Stalin's Great Terror in the late 1930s.

The mural took 10 days to complete, but Ovchinnikov's sense of reward was fleeting. Overnight each portrait was meticulously defaced with spray paint.
The depiction of Fyodor Sumarokov -- a former policeman and father of three who was arrested and executed in 1937 on charges he was an enemy of the Soviet Union -- was given red Mickey Mouse ears. The names and death dates of many on the mural were covered in yellow.
A separate portrait honoring the late Nobel-prize winning dissident Aleksandr Solzhenitsyn, a 1940s- and 50s-era gulag prisoner included by the artist because he visited Borovsk in 1998, got special treatment -- a coarse Russian word for phallus painted on his forehead.
"It was done very thoroughly and it was labor-intensive," Ovchinnikov says, who suggests local authorities may have been behind the vandalism. "This wasn't simple hooliganism when you spray something and run away. It was done intentionally and was carefully thought through, according to an assignment."
It was a painful, but familiar feeling for Ovchinnikov, who has repeatedly tried -- with only occasional and brief success -- to publicly commemorate the town's victims of Soviet repressions with memorials and murals.

He believes his activism -- which includes maintaining his website dedicated to victims of political terror -- is stifled because it is at odds with the Kremlin's preferred narrative that glorifies the U.S.S.R.'s role in the defeat of Nazi Germany while glossing over the grimmest chapters of Soviet history.
Grassroots initiatives dredging up these dark chapters periodically bubble up across the country, prompting fierce discussion and winning approval as well as censure, but never receiving the overt backing from authorities that would give them legitimacy.
Sisyphean Struggle
Ovchinnikov's Sisyphean struggle serves as a local example of the broader phenomenon. "Our local authorities relate to this issue just as the federal authorities do," he says. "They remain silent, they obstruct, and they don't allow anything to be done."

For their part, local authorities vow that Borovsk will memorialize its repression victims, but not in the center of town. They say Ovchinnikov is uncompromising in his actions and insensitive to others in the community, such as elderly communists who pine for the Soviet Union and might take offense at his efforts.
Since his retirement in 1999, the diminutive, white-haired pensioner has painted scores of murals across town depicting notable events or famous one-time residents in the sleepy town of around 11,000. Ovchinnikov's wife would write short poems to accompany the works.
For tourists, it brought a unique element to the picturesque provincial town known for its prerevolutionary buildings, onion domes, Soviet street names, and a monument to one-time resident and famed rocket scientist Konstantin Tsiolkovsky.
But 11 years ago, when Ovchinnikov began to gravitate to the politically sensitive subject of Soviet political repressions, he encountered resistance.
'For Whom The Bells Of Borovsk Toll'
In 2005, Ovchinnikov first appealed to the authorities to erect a combined memorial to the town's victims of political repression and to those who were killed in World War II. When the suggestion was approved, he designed a memorial and offered to make it, but a new mayor was appointed and snubbed the plans.
Ovchinnikov took matters into his own hands, spontaneously painting a rendering of his unapproved proposal on the back of the town's monument to Soviet soldiers who died freeing Borovsk from Nazi occupation.
He noted the 2,043 from Borovsk who were killed in the war; but on the right of the mural he singled out the town's victims of political repressions from 1920-50: 102 executed; 343 interned; 153 exiled; and 31 deprived of citizen rights.
In the center, he depicted flying doves and the Virgin Mary -- whose appearance in the image offended Russian Orthodox believers and was painted over within days. The rest of the picture faded with time.
His mural work recommenced in 2015, when he arranged with a neighbor to paint the portraits of 18 men from Borovsk executed under Stalin and later rehabilitated.
The work, painted on a shared garden wall that lines the tree-shaded path to his wood-paneled house, carried the words "for whom the bells of Borovsk toll."
An adjacent work presented the names of 21 peasants from Borovsk who rebelled against the Bolshevik Revolution and were shot during what locals refer to as "Bloody November" in 1918. The men were later rehabilitated.
Both works, however, were ultimately painted over at the behest of the neighbor's wife, who said they reminded her of a "columbarium" -- a wall or other object used to publicly display funeral urns.
'I'd Like To Name Them All'
In August, Ovchinnikov completed his latest mural, only to see it vandalized within hours. He says he was shocked, but tries to see positives. "Maybe it is not even that bad that it was vandalized because public attention around this subject has grown many times."
Indeed, the incident was widely covered in the regional media, and even received attention at the national level after it was chastised on a Facebook thread. Commenting on the photographs of the defaced works, one Facebook user angrily wrote that "until Stalinism is not officially recognized as a criminal ideology, and its justification a crime, there is nothing to be surprised about here."
The authorities in Borovsk view the situation differently. A local bureaucrat told RFE/RL on the condition of anonymity that the "problem" is that Ovchinnikov "is only prepared to do things like he wants to do them." The bureaucrat tetchily asked what would happen if the small town had several spontaneous artists like Ovchinnikov.
No Public Demand?
The bureaucrat denied that the authorities gloss over the horrors of the repressions for ideological reasons, and even that they are ambiguous on the issue.
"The authorities have made their position clear. All that's left are the nuances and is it really beneficial for the state to delve into the nuances? What's more, there is no public demand for this."
"Opinion is very polarized on [the legacy of the Soviet Union]. It is even more polarized outside big cities in the provinces," the local bureaucrat said.He pointed to a protest by elderly communists in 2013 when the central statue of Lenin was moved to a less prominent part of Borovsk's main square. "Some people were in favor, but others were not."
An informal survey carried out by RFE/RL showed that at least some of Borovsk's residents support the painter. "I feel sorry for Ovchinnikov," said an elderly woman as she walked home on December 20. "The things he writes are probably true. They paint over his paintings. Actually, I support him 100 hundred percent!"
'Banksy Of Borovsk'
Ovchinnikov jokes that he will soon more closely resemble a performance artist like Pyotr Pavlensky, than a painter. One report about the destruction of his mural in August dubbed Ovchinnikov the "Banksy of Borovsk."
Like the guerrilla graffiti artist, Ovchinnikov has occasionally taken his artistry into dangerous territory.
On September 21, 2014, as Moscow's liberal opposition held a peace march to protest the Kremlin-backed forces fighting in eastern Ukraine, Ovchinnikov carried out a solitary act of protest in Borovsk.
He daubed the yellow and blue stripes of the Ukrainian flag on the base of the town's Lenin statue. He says he was detained by police, but released and told to expect a visit. The police never came -- he thinks, because of his age.
Although Ovchinnikov has not found a common language with local authorities, he has found some support -- sometimes in unexpected quarters.
When he researched the victims of political repressions for his murals, the Kaluga branch of the Federal Security Service (FSB) -- the successor agency to the KGB and NKVD -- gave him access to archived case files of the repressed. It was there that he obtained the mugshots he used for his portraits.
He used the material to compile a thick historical tome titled A Future Executed, referring to the unrealized talents of Borovsk men who were shot or exiled. In the book, he included passages from eulogies provided by relatives of the repressed. He circulated the small print run to the 65 who had contributed material, to the town library, and a handful of others.
'Spitting In The Face Of The Future'
Ovchinnikov also used his research to fight for the official rehabilitation of victims of Soviet repression. A post-Soviet law on rehabilitation passed under Boris Yeltsin requires all relevant criminal cases to be reexamined with a view to the possible rehabilitation of the accused. In reality, Ovchinnikov says, only 30 percent have been reexamined.
He took up the cases in Borovsk, and began arguing them in Moscow courts in 2010. He says he has rehabilitated 1,150 people who were wrongly deprived of citizen's rights and 200 who took part in the local peasant uprising against the Bolsheviks in 1918.
On December 10, 2015, Ella Pamfilova, then the Kremlin human rights ombudsman, awarded Ovchinnikov with the Public Television prize for his 2015 mural and for his book.
Ovchinnikov says that it was only after he received this prize that the authorities indicated that a memorial would be established -- although on the periphery of town.
Mikhail Klimov, the mayor of Borovsk, told RFE/RL that the design for a memorial to the victims of political repression has been approved.
"At the moment, we are looking for sources of financing to establish this memorial. I think with the help of the public we will definitely establish this memorial and we will pay tribute to the innocent people who were repressed," said Klimov.
Ovchinnikov, however, is not satisfied because the proposed design does not mention the victims by name and the location is not in the town center. He stresses that he has no intention of stopping his work. "He who doesn't want to know the past, spits in the face of the future."